Note to newsletter subscribers
by Paqui on Tuesday, February 5, 2008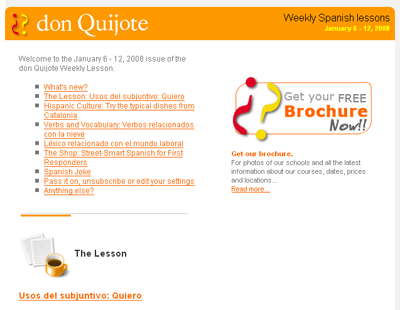 We are sorry to inform our newsletter subscribers that we are experiencing technical problems which prevent us from sending the don Quijote weekly newsletter to our members this week.
As we try to resolve this external problem, we would like to apologize for any inconvenience caused and hope the service will be restored soon.
Meanwhile you may log in to the members section at www.donquijote.org/members and check your weekly Spanish lesson, the Spanish word of the day, the Spanish verb of the day, and the free resources that we send you every week in your newsletter.
---
Keywords: resources,newsletter