Meet our Spanish teachers
by Paqui on Wednesday, April 16, 2008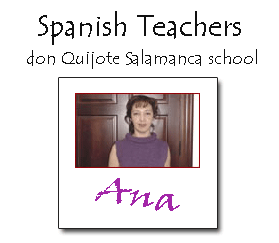 Let us introduce you to Ana García Martín, she is one of our teachers of Spanish in don Quijote Salamanca school.

How long have you been teaching Spanish?
Since 1994.
What do you like most about your profession?
What I like most is seeing that the students are there because they want to be, that they really learn…and that in a certain way they are my "creation", ha ha. Plus my work is always a mutual cultural exchange.
What do you do when you are not working (hobbies, etc.)?
I like music, reading, being with friends…of course my family. And I like sports, but not on television.
Have you ever studied abroad? A language? Which? Did you find it difficult?
I've studied English, but not abroad. Yet I can understand very well the different sensations the language student experiences: frustration, emotion, satisfaction…
What makes Salamanca the ideal place for a Spanish language course?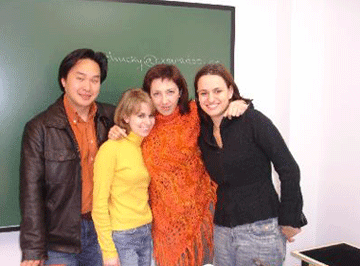 It's not a very big city, which helps you feel more at home and less left to fend for yourself. Because Salamanca is a university city there's a lot to do and enjoy. And you aren't far from bigger cities, including the capital (Madrid).
What's more, there's got to be some reason they refer to our province (Castilla y León) and Salamanca in particular as the cradle of the Spanish language.
Do you have a key piece of advice for people who want to learn Spanish? Most of all excitement, but also a certain dose of patience, and confidence that the fluency will come eventually, though it's sometimes difficult to convince students that it will come.
Will you tell us your favourite teacher's anecdote?
There are always lots of anecdotes, although I prefer to stay with the wonderful experiences and the friends from all over the world with whom I am still in contact after years and years.
What book would you recommend to students (at the intermediate level, for example) who want to read their first novel (or first book) in Spanish?
One of my favourites is "Sin noticias de Gurb" by Eduardo Mendoza. It's a small book, which makes it likely students will read and finish it, and it has an energy about it, and an amusing story that's easy to understand. The fact that it is written in diary form helps the reader read it in little pieces without losing the story. In general all of the students to whom I have recommended the book have liked it a lot and haven't had trouble reading it.
---
Keywords: Teachers,Salamanca,spanish,schools