The Spanish event of the year: Expo Zaragoza
by Paqui on Monday, May 5, 2008
The event of the year in Spain will undoubtedly be the international exhibition to be held in Zaragoza from June 14th to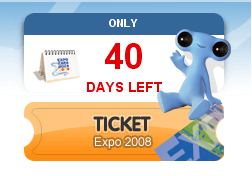 September 14th.
The International Exhibition of Zaragoza will focus on the theme 'Water and Sustainable Development' and will present 5000 shows, 2000 exhibitions and 140 pavilions.
Among the most interesting events that will take place during the Expo we may highlight Iceberg. Visual Poetic Symphony, a multimedia show that will take place in a platform over the river Ebro built in the shape of an iceberg, the show Hombre Vertiente and The awakening of the serpent performed by Cirque du Soleil.
The program in the Expo's convention center will also be extremely interesting with a complete cultural program of conferences and artistic shows including a performance of Carmina Burana and Goya - a Spanish dance and multimedia show.
Additionally the Expo's auditorium will hold different concerts presented by some of the most important orchestras of the world.
All this, combined with the pavilions and exhibitions of the Expo Zaragoza 2008 make this a unique event that you cannot miss if you visit Spain this summer.

How to get to Zaragoza:
From Madrid or Barcelona you can easily reach Zaragoza taking one of the new Spanish speed trains (AVE). For more information on trains or to buy your tickets online go to: www.renfe.es
If your budget is tight you can also take a bus to Zaragoza, the coach company Alsa offers trips to Zaragoza from Madrid.
---
Keywords: Travel,Spain