Collecting Euros!? I bet you don´t have the Vatican €... yet!
by Kimberly on Friday, July 23, 2010
Maybe you are one of the many who collect coins and most likely you never saw and definitely dont have the Vatican coin. For those of you who don´t know, the Vatican is technically an independent country where the Pope resides within Rome.
How rare are they? They are RARE. In 2002 when the Euro was introduced the Vatican minted a total of 6,000 of each of the 8 coins featuring Pope John Paul II (1 cent, 2 cent, 5 cent, 10 cent, 20 cent, 50 cent, 1 euro and 2 euro). In fact, they were issued mainly as collector sets fetching over 1.000€ each.
In 2005, after Pope John Paul´s death, they issued the second series (exclusively for collector sets) featuring the Apostolic Chamber and in 2006 until now they started minting the third series with Pope Benedict XVI, featuring 12 stars.
So what is the news?? Well the Vatican was required by the EU to put some of its coins into circulation, and recently for the first time ever, its euro coins can be found in the open market. However, in order to not lose collectionist appeal, the only coins released into the market are the 50 cent and 1€ euro pieces.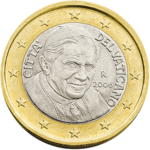 Example of the current Vatican 1€ coin. Good luck finding it!!!
Europe is a fun place to collect coins and Spain also has euros to find and collect. Although the majority of their coins are in standard circulation, they do have commemorative coins in the marketplaces that are much harder to find!
In 2005 Spain released the don Quijote commemorative coin, in 2007 a coin in honor of the Treaty of Rome, in 2009 a coin giving homage to the Economic and Monetary Union and the birth of the Euro, and in 2010 a beautiful coin featuring the great mosque of Cordoba. The mosque/cathedral of Córdoba represent Spain's rich Catholic and Moorish history.
I have not seen the new 2010 coin, but I will keep an eye out for it!!!!
Spanish 2010 Commemorative Coin
---
Keywords: