¡Hola Salamanca!
by Olivia Elson on Wednesday, July 14, 2010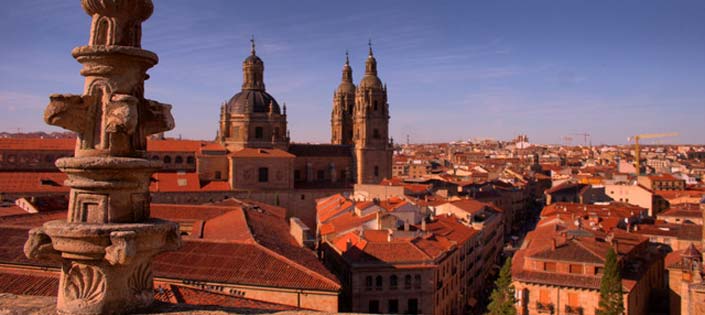 Only three days have passed since I arrived in Salamanca, yet I know it's going to be the perfect place to live, study and work for the next six months.
Firstly, the weather is beautiful at the moment, which is a welcome change from England's rainy days. And unlike the South of Spain, where summer temperatures often reach into the high 30s in cities such as Seville and Córdoba, Salamanca's altitude (802m) means the height of summer is very comfortable, in the mid to high 20s.
There's a lot to look forward to in the coming weeks, the highlights being the concerts, parades, exhibitions and markets of the Feria de Salamanca, also known as the Feria de San Mateo, which begins on the 8th September – I can't wait!
But even when winter sets in and, and the festivals are over, I know the city will be far from losing it's charm. The stunning architecture, friendly population and lively student life are just a few of the reasons why people love this city so much.
What's more, Salamanca is already proving an excellent location for improving my Spanish. The use of Castellano (what many believe is the purest form of the language) makes it really easy to understand. Coupled with my sighting of the tiny rana (frog) intricately carved into the façade of the University, which is said to bring luck and good grades to students, hopefully it won't be too long before I'm a Spanish virtuosa!
¡Hasta luego!
---
Keywords: