The best of Spanish Fashion: Cibeles Madrid Fashion Week 2010
by Kimberly on Monday, September 27, 2010
The Cibeles Madrid Fashion week has ended. The event took place from September 17th through the 22nd at the Feria de Madrid.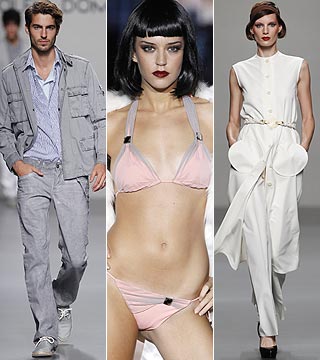 A fashion week is an industry event in which fashion designers, brands, or fashion houses display their latest collections in runway shows and buyers take a look at the latest trends. The Madrid collection was for summer and spring and lets the industry know what is "in" and what is "out" for next season. The most important fashion shows usually take place in New York City, London, Milan and Paris.
This was Madrid's 52nd edition which lasted 6 days. The general consensus was that the tendency was lack of risk and little change from the previous year. 50 designers participated presenting their collections for the spring-summer 2011 collection. 10 of the designers are young creators from "El Ego", a program that is in its 5th year.
"El Ego" is a program for young talented designers to showcase their collections. The idea is that the creation of fashion is a process which is born and ends on the street, when the collection goes on sale. Each garmet needs to make sense to the person who chooses to wear it, so IFEMA (Feria of Madrid) feature as an EGO showroom, on the same days as Cibeles Madrid Fashion Week, for young designers to show their collections. This promotional space is designed to showcase upcoming Spanish Fashion.
Spanish designers featured in this years Cibeles Madrid Fashion Week:
Adolfo Domínguez
Ágatha Ruiz de la Prada
Ailanto
Alvarno
Alma Aguilar
AA de Amaya Arzuaga
Ana Locking
Anjara
Andrés Sardá
Ángel Schlesser
Antonio Alvarado
Carlos Díez
Davidelfin
Devota & Lomba
Dolores Cortés
Duyos
Elio Berhanyer
Elisa Palomino
Francis Montesinos
Gori de Palma
Guillermina Baeza
Hannibal Laguna
Ion Fiz
Javier Larrainzar
Jesús del Pozo
Juana Martín
Juanjo Oliva
Kina Fernández
Lemoniez
Lydia Delgado
María Barros
María Escoté
María Lafuente
Martín Lamothe
Miguel Palacio
Miriam Ocariz
Montse Bassons
Nicolás Vaudelet
Roberto Torretta
Roberto Verino
Sita Murt
TCN
Teresa Helbig
Victorio & Lucchino
---
Keywords: spanish fashion,madrid cibeles fashion week