New Volunteer + Spanish Programs across Latin America!
by Kimberly on Thursday, October 20, 2011
Times are tough, no one denies that. Why not learn Spanish while doing something positive for someone else?
Many people want to study abroad but never consider the amazing volunteer activities that exist around the world. Volunteering is a really great way to ensure that you are truly immersed in the culture and are forced to use your language skills from day one. Your Spanish skills will quickly improve, you will make life-long friends, and you will be personally impacted in a positive way by the genuine experience of helping others.
don Quijote is proud to incorporate a wide range of volunteer opportunities for our students in the 2012 year.
Our programs consist partially of an intensive Spanish course and a volunteer experience, ensuring that students really get the most out of their time abroad.
What kind of work might you do?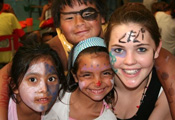 Well, let's see. In our Buenos Aires program students may work in a soup kitchen serving meals to the impoverished. Perhaps you might want to volunteer with children who have HIV or with little kids in a day care.
In Córdoba, Argentina our volunteers might help out with kindergarteners or in a pet rescue shelter. If you really want to make a difference in someone´s life, you may also volunteer to help an elderly patient in a retirement home or in a battered women´s shelter.
In Santiago de Chile don Quijote volunteers can work in a community center established by the government to help improve the lives and well being of those living in the outskirts of the city. If you like children you can volunteer by helping kids with their homework or teaching them English. The elderly here also need someone to chat to, so this volunteer program is also a great opportunity to work on your Spanish skills while brightening up someone else's day!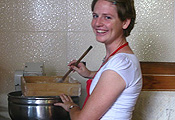 Antigua, Guatemala is a great choice for nature lovers. The country is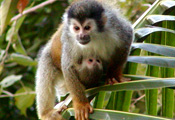 home to a wide variety of plant and fauna, a true natural reservoir. Perhaps you might want to work helping to preserve the tropical forest wildlife by aiding sick or wounded animals before they can be released back into the wild. Another exciting activity here is the once in a lifetime opportunity to work with endangered sea turtles. Volunteers work to collect sea turtle eggs from Guatemala's beaches to be brought back to the conservation program and hatched before being released into the wild.
So, this is just a taste of the many different opportunities we have for students who want to do something positive while learning Spanish. Other cities we now offer with the volunteer program include:
Bariloche and Mendoza (Argentina)
Sucre, Bolivia
Flamingo Beach, Heredia, Monteverde, Coronado and Playa Jacó (Costa Rica)
Quito, Ecuador
Cusco, Peru
Guanajuato, Mexico
The volunteer program is not yet listed on our website for most of these cities, so if you want more information, request our new 2012 program brochure! We will send it to you for free!
---
Keywords: