don Quijote makes it easier to study Spanish with easy online booking
by Kimberly on Monday, November 28, 2011
Good news! We have not only updated our website over the last couple of weeks but we have also prepared the online booking system for 2012!
You can now purchase any 2012 course directly from our secure online booking page at:
https://secure.donquijote.org/booknow/qb.asp
What are the steps that you should follow?
1 - First, decide where you want to go! We have many destinations in Spain and Latin America. You can read about them all on our website and decide what city is the best fit for you. If you aren't sure where to go, you can always combine destinations at no extra charge!
2 - Next, think about what kind of Spanish courses you want to take. Intensive Spanish? Super-intensive? Or perhaps you want to combine your course with a fun activity like flamenco classes? Maybe you really want to work on your Spanish conversation skills? There are many options, so it is a good idea to take a look at them before trying to calculate prices.
3 - When do you want to come? And for how long? You can stay for as little as one week for as long as you want! This part is easy and you can play with different dates during the price quote process.
4 - What kind of accommodation would you like while you learn Spanish abroad? You can stay with a host family, student apartments, private apartments, student residenceshotels! Choose from half or full board, single or shared rooms, shared or non-shared facilities.. there are so many choices!.At don Quijote, we really pride ourselves on offering many options of top notch accommodation because we believe that your accommodation is a really important part of your study abroad experience.
5 - Once you have a good idea of all these things, head to our online booking form: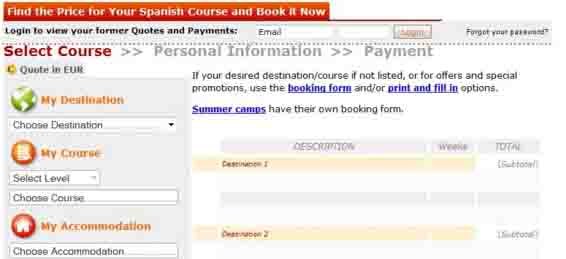 6 - Fill in your destination, estimated level, course type, accommodation type (with only breakfast, breakfast plus one meal (half board) or breakfast and two meals (full board), when you want to start (available start dates are listed in green) and how many weeks your course will last. Finally, decide if you want to add any extras like medical insurance or a pick up service at the airport. CLICK CALCULATE.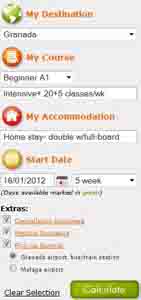 7 - Your Price Quote will be displayed with all the options you have chosen! From here, you can choose to enroll easily or have us send you the quote and our course counselors will be in contact with you to resolve any of your questions.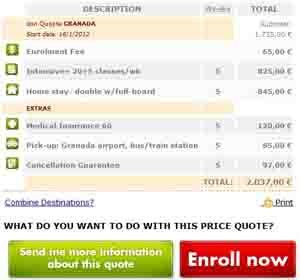 Use this tool to calculate different prices with combinations of different courses course lengths, accommodation types and destinations. When you find the right course for you at the right prices, ENROLLING TO STUDY ABROAD HAS NEVER BEEN EASIER! Pay directly online securely with don Quijote!
Studying Spanish abroad in 2012 just got easier! Book online now!
---
Keywords: online booking,book spanish onilne,spanish prices