Salamanca to honor Miguel de Unamuno in 2012
by Kimberly on Wednesday, December 28, 2011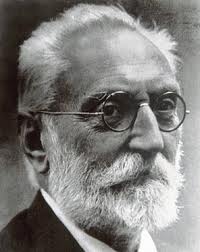 The city of Salamanca, Spain is preparing to honor the famous Spanish writer and poet, Miguel de Unamuno throughout the 2012 year with music, theater productions, expositions, student workshops films and conferences.
Philosopher, poet, novelist and playwright, Miguel de Unamuno was one of the most distinguished literary figures and principal Spanish philosophers in Spain at the turn of the century.
The program, appropriately titled "2012, the Year of Unamuno" was announced on the 31st of December by the city mayor Iñaki Azcuna in the Plaza de Úrsulas. On this day, the planned activities dedicated to Miguel de Unamuno officially launch. The first activity opens in the town hall and is a picture exposition by Oscar Alvariño detailing Unamuno´s career.
The Salamanca Foundation City of Culture and Knowledge will coproduce the Unamuno production "Niebla" (Fog) and a dramatic adaptation of "Fedra" which will both be performed at the Liceo Theatre in Salamanca.
This year's XXXII Municipal Book Fair and Day of the Book (April 23, 2012) will also have events dedicated to Miguel de Unamuno with concerts by Salamanca's Youth Symphony, origami workshops, short story contests, and other acts dedicated to novelists, authors, philosophers and essayists. Additionally, participating book stores will encourage customers to read Unamuno's famous Works.
The Castilian and Leonese Institue of Language will offer a conference dedicated to "Unamuno seen from exile" about the great thinker's role from the perspective of writers in exile from the Spanish Civil War.
The Latin American Poet's meeting this year in its XV edition, will be dedicated to Unamuno.
A contest titled "My Letter to Unamuno" will take place to bring the figure of Miguel to Unamuno to young students.
The Municipal Library will start a reading group dedicated to Miguel de Unamuno. A workshop will also take place so that people can get to know the history of Salamanca through Unamuno's works.
The "Cielo de Salamanca" activity in which many Salamancan poets participate will dedicate this year's theme to Don Miguel de Unamuno.
The Santo Domingo Hall, in collaboration with Filmoteca Regional, will hold an exposition called "Don Miguel de Unamuno, life through photos".
The Salamanca Youth Symphony will perform a concert at Santa Celia featuring a piece by Joaquin Rodrigo inspired by the first 7 and last 3 verses of "Oda a Salamanca" written in 1953 by Miguel de Unamuno.
The Zacra Folk group will perform 17 sonnets written by the Spanish writer at the Liceo Theatre on the 31st of March, 2012.
Origami workshops and performances by Pep Gómez will take place, inspired by Unamuno's favorite hobby.
Filmoteca will organize a film cycle with many titles including documentaries about Unamuno. Additionally, a new documentary about the famous author will be edited in collaboration with RTVCYL.
The "Plazas y Patios" summer program will incorporate many events and performances throughout the city to Miguel de Unamuno.
The city of Salamanca hopes to involve all Salamanca citizens and tourists alike and invites them to get to know one of the most important figures in recent Spanish history; Miguel de Unamuno, poet, playwright, novelist, philosopher and essayist.
---
Keywords: Salamanca,miguel de Unamuno,Universidad de Salamanca