UNESCO adds Latin and Spanish traditions to intangible cultural heritage list
by Kimberly on Wednesday, December 7, 2011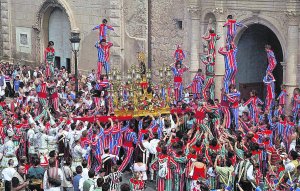 On November 2011 a 24 member intergovernmental UNESCO meeting decided to add 12 new elements to their list of the world's most amazing examples of Intangible Cultural Heritage. Japan, France, Portugal, Croatia and other countries were represented alongside several Latin American and Spanish countries:
The Mare de Déu de la Salut Festival in Algemesí (Valencia, Spain)
On the 7th and 8th of September, the town of Algemesi, Valencia celebrates in honor of their patron saint, the Virgin of Health (Nuestra Señora de la Salud). The celebration dates back to the 13th century and incorporates theatrical acts, religious processions, dance and music.More than 1,400 of the townspeople participate in the 3 parades, sporting traditional costumes and handmade accessories.
UNESCO noted the importance of the festival to the local Valencia identity and the effort to pass the traditions from generation to generation. .
Pilgramage to the Lord of Qoyllurit'i Sanctuary (Cusco, Peru)
During the Qoyllur Rit'i festival, 58 days after Easter (in May or early June), a pilgrimage takes place to the Lord of Qoyllurit'i Sanctuary. Peasants from 8 villages from surrounding areas take place who bold the bitter cold to reach the shrine, located at the foot of Mount Qolqepunku.
The Qoyllur Rit'i festival is held annually in honor of the Lord of Qoyllur Rit'i. The tradition originated in 1780 based on a local legend about boy called Mariano. An image of Christ was painted on the the boulder over his tomb which is now known as the Lord of Qoyllur Rit'i, meaning Lord of Star Snow.
The pilgrims bring large groups of dancers and musicians and the event ends in a large feast. The feast was declared by the Peruvian Ministry of Culure as being the most important religious feast in the Peruvian Andes.
Jaguar Shamans of Yuruparí (Vaupés, Colombia)
In the area surrounding the Pira Parana River in Vaupes, southeastern Colombia, human traditions and rituals are well preserved among the natives, particularly the Jaguar Shamans.
Their traditional wisdom, known as "Hee Yaia Keti Oka" is passed down to male offspring from generation to generation tp teach their people to take care of life and land. The Jaguar shamans' traditional knowledge of the Amazon and Universe make them "guardians of nature" and gives them an integral role in society: planting, health, animal breeding and laws.
Mariachi groups (Mexico)
Mexico's internationally famous mariachi music has finally gotten the cultural distinction it deserves. The mariachi groups, known for their distinctive outfits and large sombreros, combine song and dance. The instruments that usually form a Mexican mariachi band are: trumpets, violins, the vihuela and guitarron (a type of bass guitar).
These groups have helped to preserve Mexican traditions and culture and have become emlematic of Mexican music. Mariachi groups are often featured in different forms of media including film and has even been used in presidential campaigns.
---
Keywords: valencia festival,shaman,mariachis,pilgrimage,unesco intangible cultural heritage