Spanish Chef Ferrá Adriá teams up with Harvard University
by Kimberly on Monday, February 21, 2011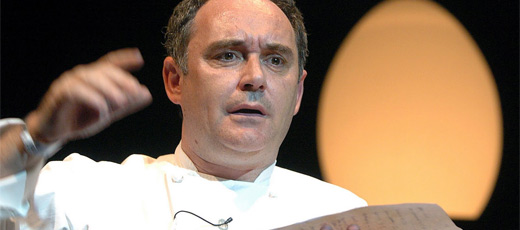 Famous Spanish chef Ferrán Adriá has just renewed his partnership with Harvard University and the Alicia Foundation for another 5 years.

Adria helps with a science and cooking classes and lectures and also gives courses on cooking processes and creative methods. The course is designed to compare science to cooking: From Haute Cuisine to the Science of Soft Matter, and to explain the fundamental principles in applied physics and engineering. World acclaimed chef Ferran Adrià discusses the fascinating relationship between modern science and modern cuisine. Adria is referred to by Gourmet Magazine as "The Salvador Dali of the kitchen" and in earlier lectures traced the traced the birth of molecular gastronomy, the manipulation of the physical and chemical processes of cooking, and his own adventures in "molecular cooking." He has also explored the use of hydrocolloids (gums) that enable a delicate fruit puree to be transformed into a dense gel, and deconstruction techniques like sferificacion, creating a resistant skin of liquid).

The announcement came during the Gerona Gastronomy Forum Congress (Catalonia, Spain) after a moment of silence for Santi Santamaria, another Spanish chef who recently passed away suddenly in Singapore.

Ferrá Adriá also announced that this would be his last public appearance in Cooking congresses who assured that when he returns, he will do things in a different way.
Additionally, Ferrá Adriá's award winning restaurant "El Bulli" will be closing its doors on July 30, 2011 after 50 years open to become a Center of Creativity focused on Creative Cooking and Gastronomy.
Interested in cooking Spanish dishes? Combine your Spanish course with a cooking class.
---
Keywords: ferrán adriá,spanish food,chef