Finally: "The KISS" of Shakira and Piqué
by Kimberly on Tuesday, March 15, 2011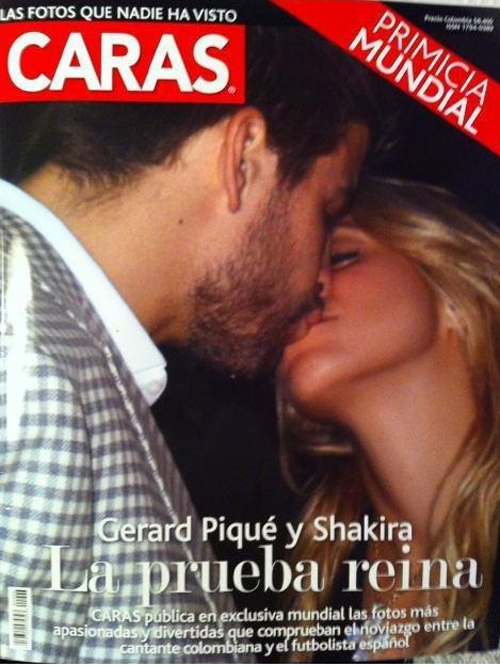 The last kiss that had us talking was between Iker Casillas (Goal keeper of Real Madrid and the Spanish National Team) and Sara Carbonero (Sports reporter voted one of the world's sexiest) when the Spanish Soccer team beat the Dutch in a passionate World Soccer Cup final in South Africa in 2010. After the win, Iker gave Sara a passionate kiss that was broadcasted around the world.
Another famous Catalan footballer Gerard Piqué is now making headlines. He is a young (24 year old) central defender for FC Barcelona who happened to meet famous Columbian singer Shakira in South Africa during the World Cup. She sang the theme song for the World Soccer Cup and he played on the winning team, it seems like a match made in heaven.
Shakira at the time was involved in a long relationship and rumors starting swirling when she left her long time boyfriend and moved to Barcelona. Soon later, Gerard Piqué and Shakira celebrated their shared February 2nd birthday together in Barcelona with friends, as seen in a picture that the footballer kindly published on his Twitter page. Pique turned 24, Shakira 34,10 years his senior.
Recently, with a photo obtained by Caras magazine, all of the rumors have been confirmed. Although you could have asked any FC Barcelona fan and they could have confirmed it earlier based on how the seemingly distracted Piqué has been playing lately... The magazine cover shows Piqué tenderly kissing the Columbian singer at what appears to be their birthday celebration, based on their clothes.
Gerard Pique recently appeared before the press as the new spokesman/model for the men's line of Mango clothes when he was confronted with the picture which he has apparently not seen previously. When he was shown the picture by a reporter he chuckled and said that "it is a nice kiss". Pique took the opportunity to explain that this picture will never unseat the passionate and intense kiss between Sara Carbonero and Iker Casillas, although he carefully avoided using the singer's name. The FC Barcelona footballer went on to say: "I don't know if this is this is the happiest year of my life, but right now I am living a very beautiful moment. I am also in love, and I hope it stays that way".
In regards to his new role as a model for Mango, the handsome young footballer commented that he does not feel as comfortable in front of a camera as he does playing soccer. He also commented that he does not want to be the Catalan version of David Beckham and that "I would like to have a private life, it is difficult but I try to do it the best I can".
---
Keywords: