Shakira Snubs Hugo Chavez
by Kimberly on Tuesday, March 29, 2011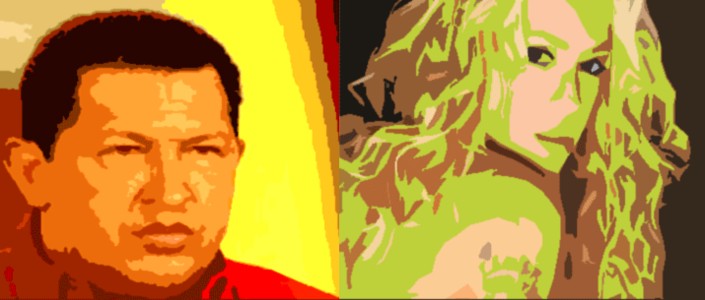 Hugo Chavez, the president of Venezuela, indicated on his Sunday Aló Presidente (Hello President) program that he was suppose to meet up with the Columbian singer Shakira but had recently received a note saying that she had "left late", apparently they had some scheduling problems. Shakira is visiting Caracas for a concert, initiating her tour that will also visit Argentina, Uruguay, Bolivia and Columbia.
Chavez stated that "Today Shakira arrives, this grand Columbian actress, singer, song writer. She sent a letter saying that she wanted to pass by and see us. We were expecting her today before or after Aló, but last night we received information that she would be leaving late today..."
Scheduling problems or a bad excuse to stand Chavez up?
Chavez went on to communicate that "we would have very much liked to say hello to her, but we welcome her to Venezuela"
He also reminded the public that the Columbian singer has a Foundation called Pies Descalzos (Barefeet) that helps poor children. The president also slipped up and called Shakira's famous "Waka-Waka" song "Shaka-Shaka", receiving a good laugh.
Chavez announced that Raphael, "a Spanish singer whom I have admired since I was a child and love" will be giving a concert next week in Venezuela.
---
Keywords: