Joan Miro at the Tate London
by Amy Lambert on Wednesday, April 20, 2011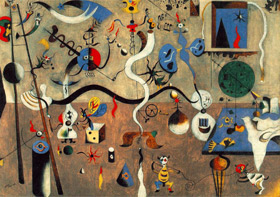 The Spanish artist Joan Miro´s works are being exhibited in London at the Tate from 14 April until September. Miro is famous for his modern and colourful Surrealist works.The exhibition includes more than 150 paintings, drawings and sculptures.
Joan Miro was born in Catalonia, in Barcelona, and spent several years of his artistic career there where he mingled with other famous Spanish artists, most notably Dali and Picasso.
Importantly Miro did not remain in Spain throughout his career. He spent many years in Paris and it was from here that he produced his famous work "Láidez L´Espagne" which supported the Republican forces in the Spanish Civil War.
Miro´s style is hugely distinctive and quite simplistic. He uses bright colours and basic shapes. The canvases however often very large and the works are striking. Having visited the Fundacion Joan Miro in Barcelona I would definitely recommend that you head to the Tate in London to see the exhibition if you get the chance! He is a great example of a successful Spanish artist.
---
Keywords: Miro,Tate London,Spanish art,Modern Art