Barcelona Victorious in the Champions League Final
by Amy Lambert on Tuesday, May 31, 2011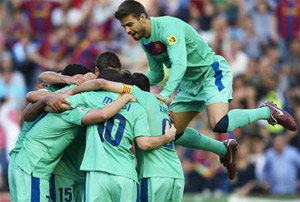 F.C. Barcelona won the final of the Champions League which took place on Saturday at Wembley stadium.
They beat the British team 3-1 with Pedro, Messi and Villa each scoring a goal. The Spaniards were absolutely delighted with their victory and celebrations went on throughout Saturday night and even continued into Sunday as well.
The first half of the game ended with both teams equal 1-1 after goals from Rooney and Pedro. However as the second half began Barcelona came back with more determination and managed to demonstrate their superiority.
Barcelona were without a doubt the stronger team. They had 19 attempts to score, whilst Manchester United only had 4. They also had 67% of the possession during the game!
Sadly for Alex Ferguson´s team this was their second loss to the Catalan team. They were also defeated by them in 2009. This is the fourth time that Barcelona has managed to win the Champions League final!
Spaniards are renowned for their love of football and this year has been a great year for it. Spain now has both the world cup and the Champion League cup in their hands – quite an achievement!
---
Keywords: Barcelona,champions,manchester united,football