Middleton Sisters both fans of Zara!
by Amy Lambert on Wednesday, May 4, 2011
Both Kate and Pippa Middleton are fans of the Spanish store Zara! On the Saturday after the royal wedding the two sisters both wore clothes from the Spanish chain.
Kate wore a blue dress with a black waistband whilst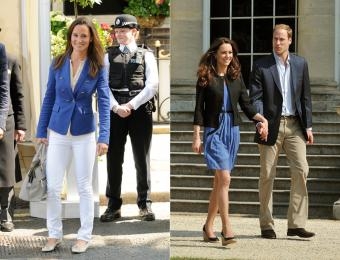 Pippa wore a blue buttoned jacket which she wore with white jeans. Although it is not known for definate whether the sisters conferred about their outfits it seems they may well have done. The Middleton family are all very close, especially Kate and Pippa.
There is no doubt that the two sisters have become fashion icons, so it is big news for Zara, and Spanish fashion in general, to have both Middleton sisters sporting it's clothes.
During the wedding ceremony they wore elaborate dresses by the British designer Alexander McQueen. Kate's bridal dress cost 44,000 euros whilst Pippa´s bridesmaid dress cost 22,000 euros.
However the outfits the pair wore the following day were considerably cheaper! Kate´s dress cost 49,95 whilst her younger sisters jacket cost just 59,95.
No doubt these items will have flown over the shelves over the weekend! A success for Spanish fashion!
---
Keywords: spanish fashion,kate middleton,pippa middleton,zara