Penelope Cruz says that youth protests: "break my heart"
by Kimberly on Thursday, May 19, 2011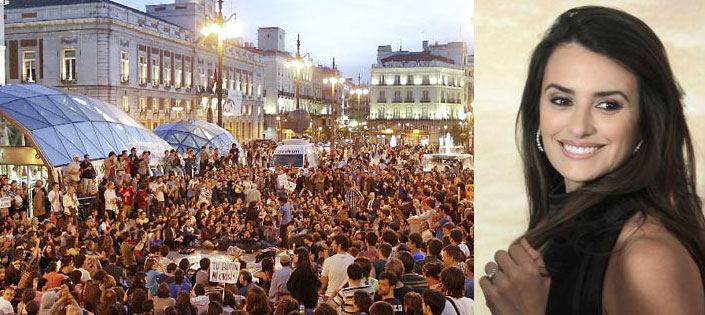 Penelope Cruz is back in Spain to promote her new Pirates of the Caribbean film for the first time since December, before the birth of her son Leo. Stunningly beautiful and fully back in shape post-partum, she signed autographs and kindly was the center of attention at the press conference in which co-stars Sam Claflin and Astrid Bergès-Fribey also took part.
As always, Penelope carefully avoided personal questions and kept silent about her husband and new baby, only mentioning that "being a mother is something that is so marvelous and so strong that it definitely marks you when you are acting".
Her first visit back home in ages comes at a time when youth protests, dubbed "15-M" are taking place across the country. When asked about the situation of young people in Spain, the actress replied:
"It breaks my heart. There are many kids that are so well prepared and have so many possibilities, they look but they can't find, and the situation is like this, very difficult. It is the reality in our country and it is time for it to stop".
On 15-M (15th of May) thousands of Spaniards gathered to protest the Spanish government, bank system and political parties. The majority of the protesters are students, unemployed Spaniards and social groups that have been networking via social networks under the name "SPANISH REVOLUTION" to propel the mass demonstration in more than 50 Spanish cities on Sunday. The rally comes just one week before general elections in all Spanish cities and towns.
Why all the unrest and outrage? Young Spaniards have an unemployment rate of over 40%, the highest in the world, and they are fed up with having to "pay" for the financial crisis when the fault is in the hands of banks and political parties.
Some have even referred to young Spaniards as the "lost generation" with rampant unemployment, bad pay and temporary contracts. On Sunday yellow shirts were distributed by the "Youth Without a Future group" and the actual demonstration was organized by activist groups who march under the slogan "We aren't merchandise in the hands of politicians and bankers."
Disgruntled by a two-party system that youth complain "does not truly represent the people", huge crowds gathered in the Puerta de Sol (Sun´s Gate) in Madrid. 18 people were arrested in a minor clash with police. Now, the protesters demand their release.
The protests are still going on in many Spanish cities, demanding change, demanding that the citizens do not pay for the bank's and government's mistakes.
---
Keywords: