Spanish Books
by Amy Lambert on Wednesday, May 11, 2011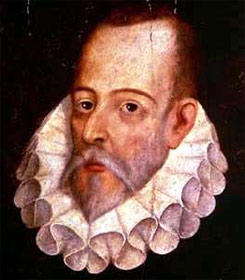 This week it is the annual Feria del Libro here in Salamanca. These fairs take place throughout Spain promoting Spanish literature. This week there is also a book fair taking place in Granada, and there will be one later this month in Madrid.
At the fairs it is possible to see various authors who are promoting their books, listen to speeches from the author and of course buy yourself some things to read!
There is no doubt that reading books, poems or newspapers in another language is a great way to increase your vocabulary and improve your skills in the language and it can also be very enjoyable, helping you discover more about the Spanish traditions.
At university we read Lazarillo de Tormes. This is a tale about a young boy who moves from master to master learning lessons about life upon his journey. It is written in old Spanish, which is almost like Chaucerian English, and so pretty challenging, I ended up reading a version in modem Spanish instead! Despite the fact that it was a bit of a challenge to read I did really enjoy the story.
While learning Spanish I have also studied a few works of the famous playwright Lorca. I found the plays much more accessible than the Lazarillo novel and also really enjoyed them! Having read Yerma, La Casa de Bernada Alba and El Amor de Don Perlimplin I feel that I knew a lot more about rural Spanish life! So reading in Spanish not only boosts your command of the language but also your understanding of the culture.
One of the most famous Spanish novels has to be Cervantes, Don Quijote de la Mancha. However there are many that are well known and worth reading!
If reading a book in Spanish seems too daunting for you then many of the most famous works have also been translated into English. What´s more is that there are many books written in English and set in Spain which will also help you learn more about Spain.
I hugely enjoyed Winter in Madrid written by C. J. Sansom. It is a spy novel set during the Spanish Civil War. It vividly describes both Madrid and what life was like during the civil war for the Spanish people. Another famous book set during the Spanish civil war is Ernest Hemmingway´s For Whom The Bell Tolls.
So why not pick up a novel, written in Spanish, or just set in Spain to learn more about the culture? If you really love literature then why not even take a course combining Spanish learning and literature?
---
Keywords: spanish literature,reading in spanish,spanish books