The Dog Whisperer, César Millan, in SPAIN
by Kimberly on Monday, May 2, 2011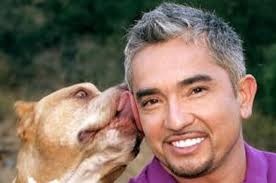 I admit it, I LOVE the show "The Dog Whisperer". I love César Millan, and I LOVE the way he trains "people" to understand their canine friends... and I don't even have a dog! But his lessons and methods can be applied to almost any animal, I am a firm believer!

In Spain, you can find me watching his program every Sunday all morning long, although I know it aires at other times too. I recently found out that César Millan was coming to Spain for the first time, he will be giving two shows in Madrid at the Palacio de Deportes:

May 2, 2011 (TODAY!) at 19:30

May 3, 2011 (TOMORROW) at 20:00

Tickets are STILL available for both shows through El Corte Inglés - For those who want to be on stage, sorry that is sold out!

Now, if you are anything like me you are probably saying "DARNIT!!! I WORK on Mondays and Tuesday's and I don't live in Madrid!!!"... No worries, as far as I can tell you have one other good chance.

If you live in Spain you have seen our famous ant friends Trancas and Barrancas in the popular show "El Hormiguero" (The ant farm) that aires nightly on Cuatro at 21:30. César is a confirmed guest on the Wednesday May 4th show.

The Dog Whisperer, born in Mexico, will tell us about his life, from his illegal entrance into the US to becoming one of the most influential people in Los Angeles. He will also give Spain some helpful tips to live in harmony with your dogs.

Too bad the year's most important Madrid-Barcelona football match takes place around the same time tomorrow...
---
Keywords: