Leonard Cohen awarded the prestigious Prince of Asturias Award
by Kimberly on Wednesday, June 1, 2011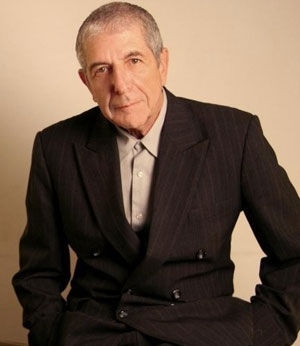 Leonard Cohen, born in Montreal in 1934, was just announced the 2011 recipient of the Prince of Asturias Award.
Leonard Cohen is a Canadian singer/songwriter, musician, poet and novelist who is famous for being reclusive and well regarded by critic for his high quality work and rich lyrics. He was chosen for the award no only for his rich literary songs but also his written work of poems and songs such as Flowers for Hitler (1964) and Let Us Compare Mythologies (1956) or the novels: The Favorite Game (1963) and Beautiful Losers (1966). Earlier this year he issued a compilation book Poems and Stories.
The Prince of Asturias Awards started in 1980 and are awarded annually in Spain by the Prince Felipe of Asturias Foundation to people or organization that make notable contributions to science, humanities or public affairs.
The jury emphasized that he will be awarded one of the 8 prizes for his thought-provoking songs and because he is "considered one of the most influential authors of our time, his poems and songs have beautifully explored the major issues of humanity in great depth" .
He will be awarded the Prince Asturias prize in Spain in the fall which consists of a 50,000€ cash award and a statue designed by Joan Miró.
---
Keywords: