Translator who brought Lorca and Cervantes to English dies at age 91
by Kimberly on Tuesday, June 7, 2011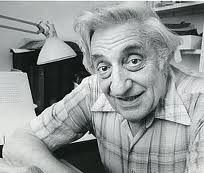 Edwin Honig died last week at the age of 91 in his home in Providence, Rhode Island. He suffered from Alzheimer's disease. He was born in 1919 in Brooklyn where his maternal grandmother, a Sephardic Jew, installed a passion in him for Spanish literature.
Edwin was a University Professor at the prestigious Brown University from 1957 to 1982 and is credit with translating famous Spanish literature masterpieces by Garcia Lorca and Cervantes to the English language. Edwin Honig also translated La vida es sueño (Life is dream) by Calderon de Barca and works by the Portuguese poet Fernando Pessoa to the English speaking world.
He studied English as an undergraduate at the University of Wisconsin where he graduated in 1944 before serving in Europe in World War II. As a professor at Brown University, Honig went on to found the Creative Writing Program which eventually evolved into the present Department of Art and Literature. In 1973, Honig created the Copper Beech Press which was dedicated to publishing and translating poetry.
Edwin Honig made great contributions to bringing Spanish literature to the English world. In 2010, his nephew Alan Berliner, a renowned documentary filmmaker, presented the film "Translating Edwin Honig: Alzheimer's of a poet" at the New York Film Festival.
---
Keywords: