Visiting Seville
by Amy Lambert on Thursday, June 9, 2011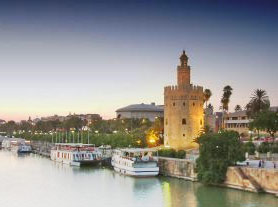 Last weekend I took a short break down to the south of Spain for some sightseeing in sunny Seville. Seville is one of Spain's most famous cities and now I know why – there's so much to see in this beautiful town and plenty of authentic Spanish culture to take in, all under the rays of the Andalusian sun!

Seville's best known monument, its cathedral, was my first stop. As the world's largest gothic cathedral, it is so big that I had actually been able to see it on the bus ride into Seville. Once I got closer up it was even more impressive, both inside and out. The exterior has incredibly detailed gothic design, whereas the interior displays various religious treasures and is also the site of the tomb of Christopher Columbus. Inside you can also access the Giralda (tower), which was a little bit tiring to climb but absolutely worth it to see stunning views of Seville from all angles.

Next was the Alcázar, the royal palace of Seville. This would have to be my favourite of Seville's buildings due to its unique mix of Muslim and Christian architectural styles. It was interesting to find out that it was a Christian king who ordered the magnificent palace to be built incorporating Islamic style, proving that the Spaniards and the Moors did once live in harmony together. As well as its beautiful internal patios, the Alcázar also has stunning gardens that are extremely well kept and ideal for a relaxing break before continuing to see the city.

Seville is said to be the epitome of all things Spanish and after visiting, I can't help but agree. Around every corner you'll find flamenco dress shops, traditional tapas bars and small churches. Then there's the bull ring, considered as one of the most important bull fighting arenas in Spain, home to one of the country's famous yet controversial traditions. I particularly enjoyed looking around the small boutiques of handmade leather goods, jewellery and textiles as well.

Seville has an endless amount of things to see and do and although there are entrance fees for most of the main attractions, there are great savings for European students under the age of 25. Plus, if you feel like the heat is getting a little too much and fancy a dip in the sea, the coastal city of Cadiz is not far away!
---
Keywords: travel in Spain,Seville,Sevilla