Watch Spanish Television Online for Free!
by Kimberly on Wednesday, June 29, 2011
"A la carta" by RTVE.es (Spanish television) gives users free access to any documentary, series or anything else that appears on Spanish television.GREAT for Spanish teachers and Spanish learners! This would be a great compliment to an online Spanish course.
Check out the site at:
http://www.rtve.es/alacarta/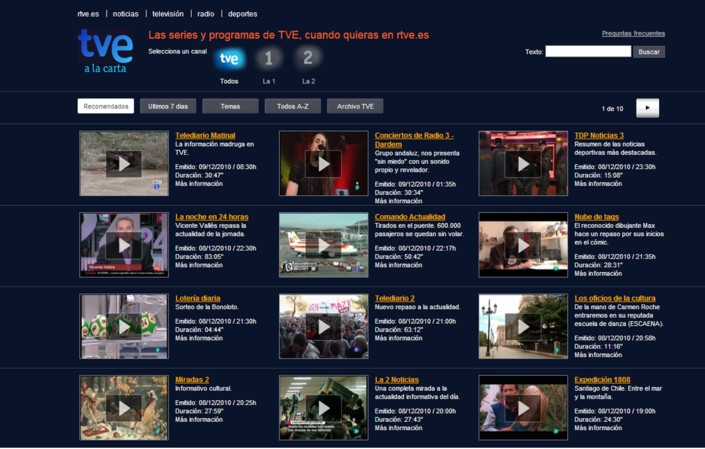 You can choose from a wide range of series, 57 of them. such as the famous Águila Roja, or "El Quijote", a mini-series about Cervantes' Don Quixote of the Mancha. You can also check out Spain´s take on the famous American series : Knight Rider, known as "El Coche Fantástico" or Spain´s version of the Golden Girls, called "Las Chicas de Oro". I really liked "Amar en Tiempos Revuelos" during the first year, before it became more like a soap opera, it is about Spain during the Franco regime.
One of my favorite programs is called "Españoles en el Mundo" (Spaniards throughout the world) which features Spaniards who live in different parts of the world. They show you around the city and explain how they became expatriats, always interesting stories.
If you prefer Spanish films, there is a weekly selection among others.
There are many documentaries, sports, and for radio fans you can listen to Spanish radio as much as you want.
Anyways, I we thought this information might be helpful for those who want to practice their listening skills, improve their Spanish, keep up with Spanish series, or just want to introduce their students to Spanish accents.
Enjoy the same Spanish television you would in Spain! ¡"A la carta"! (ON DEMAND!)
---
Keywords: