Learn Spanish and see the world!
by Kimberly on Thursday, July 28, 2011

Article by: Abbey Algiers who studied with don Quijote in Valencia, Spain in 2005.
When I decided to study abroad in college, choosing my program was simple- I signed up for the semester long course offered by my university. Case closed. However, years later, as a "mature" 31 year old, I was starting from scratch. I began with a perfectly logical Google request, "learn Spanish abroad." 341,000 results later, I realized I needed to focus my efforts. To save you some legwork, consider the following if you want to study abroad as an adult.
1. Decide where you want to study. Since Spanish is the official language of 22 countries, you have a lot of places to choose from, it helps to narrow your search to a few countries. Zero in on places that have always intrigued you. Maybe friends have recommended great spots in the Spanish-speaking world. Or, perhaps the last bottle of Spanish wine was so good that you swore you'd go straight to the source.
When you think you found the perfect spot, take your research a step further before booking your flight. Find out what the weather will be like during your stay. Crazy things like hurricanes, heat waves, and heavy rains can taint even the best language learning experiences. You may also want to check out the political climate and overall safety of the region. (Especially if you're going it alone!)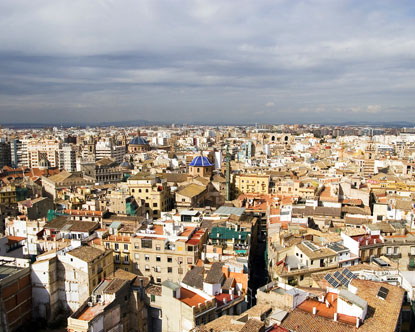 2. Finding a school that's right for you. Destination- check. Now it's time to pick a school. You'd be surprised at the number of language schools out there! Teaching Spanish to monolingual Americans is big business! Besides straight out "Me llamo Paco" style Spanish, you can take Spanish courses for travel, business, medicine, law, conversation, religion, and more. Hate the idea of a classroom? No problem, they'll teach you while you volunteer! Limited vacation time? No worries! Most schools offer courses ranging from a few days to a few months. The average class ranges from 1-3 weeks. Most courses are either "intensive" (20 hours) or "super intensive" (30 hours). I chose 20 hours, and tried to spend my free time speaking Spanish with the locals and my Spanish family.
3. Where do you think you'll stay, a Holiday Inn? Many schools encourage you to live with families. This is a great way to learn the language and culture... for a great price! A friend of mine stayed at a Mexican "homestay" for just $25/day. This included three meals and her own room. The schools make sure the homestays are safe, clean, and close to school. You'll be provided with a key so you can come and go as you please, and usually have the option of a single or shared room. If you prefer a hotel or dorm, the school can help you find appropriate accommodations.
4. Will I need an "adult student loan" to fund the trip? The number of schools available means good deals for you. I found schools in Mexico, Guatemala, Nicaragua, and Spain with rates from $105 to $350 for a week long course. When I directly called a don Quijote school in Spain, I was pleasantly surprised with the attention I received from my new amigo Miguel. He designed a package that met my educational (and financial!) goals. Other friends who've studied abroad agree that it pays to talk directly to the schools for advice and price breaks!
5. How does this whole language school- thing work?
Upon my arrival in Spain, a representative from my school was waiting for me with one of "those signs" with my name on it. The rep gave me information on the city and school during the van ride to my homestay. The next day, I went through a routine common to most language schools. All new students gathered in what I'd call the "UN of organized chaos." I joined students from all over the world and took a placement exam. The teachers (ranging from about 25-55 years old) then placed us according to language proficiency.
My classes went from 8:30-1:00, with a half hour break at 11:00. Students as young as 17 joined the 20, 30, 40 and 50 somethings in the class. Age and language barriers (some students spoke no English and little Spanish)aside, my class quickly bonded, and we spent our free time together.
6. Learn a language, get extra perks. Finally, know that in addition to learning a language, you can gain in other ways. Ask your employer if they'll fund part of your trip. Check with your accountant to see if all or part of the trip can be deducted. As an educator, I was able to earn credit for this course, even though it wasn't affiliated with a major university. Bottom line- you can benefit many ways from travel abroad! ¡Buen viaje!
---
Keywords: spanish for adults,Study Spanish as an adult,study abroad for adults