Peru celebrates Machu Picchu Anniversary
by Kimberly on Friday, July 8, 2011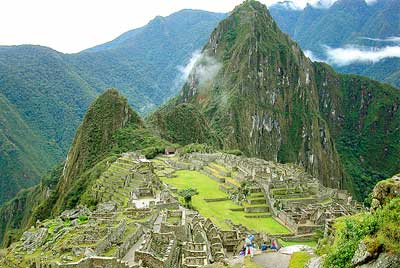 This month marks the 100th anniversary of the rediscovery of Machu Picchu, the "lost city" of the Incas, by the American historian Hiram Bingham III in 1911.
The five-day celebration of global interest, which is anticipated to be one of the greatest cultural events of the modern world, began on July 7th, the same day that it was named one of the new Seven Wonders of the World in 2007.
The celebrations for the centennial anniversary of Machu Picchu began yesterday with the staging of the traditional Tinkay ceremony, carried out in the Inca citadel located in Urubamba (Cuzco). In this traditional ceremony the Inca pays tribute to the pachamama or mother earth. Activities have also been scheduled to highlight the most traditional aspects of Andean culture, from festivals showcasing typical dances to exhibits of Andean camelid species.
In a traditional Incan ceremony, indigenous residents performed a play that mirrored the ruins' history: its creation, the arrival of the Incas, the city's abandonment and its rediscovery by the American explorer. Dressed in folkloric costumes, the participants prayed in their native Quechua at the historic site that Bingham called "the eighth wonder of the world."
The Inca city, high in the Andes Mountains, is thought to date from the 1450s, but was abandoned as an official site for the Inca rulers a century later at the time of the Spanish Conquest. Although known locally, Bingham is recognized as the man who brought the site to world attention, although many others helped to bring this site into the public eye.
It is now thought likely that other adventurers, both international and Peruvian, had been to the citadel prior to the journey by the Yale University scholar. Peru's government has sidestepped the issue of Bingham's much-disputed discovery by labelling the event: "100 years of Machu Picchu in the world".
For most Peruvians, however the celebrations will be more about the ruins themselves which have come to symbolise their national identity. The hallowed city will also be printed on 10-sol bills to mark the site's centennial celebrations, placing emphasis on strengthening the unity of the Peruvians.
If you feel inspired by this celebration of Peruvian culture, why not take a Spanish course at our school in Cuzco, in the same region as the beautiful ruins themselves!
---
Keywords: