Sweet 1-year Anniversary
by Kimberly on Monday, July 11, 2011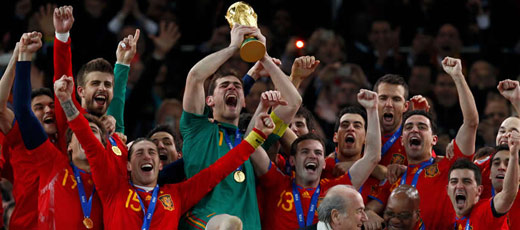 "¡Campeones campeones, oooe oooe oooe...! ¡Campeones campeones, oooe oooe oooe...!"
One year ago today, Spain celebrated their first FIFA World Cup title.
Spain celebrated, a breath of fresh air among a slew of negative news about debt, crisis, unemployment, cut-backs, reduced wages... A sea of red shirts filled the country from coast to coast, an absense of national pride briefly restored, if only for the love of sports. Yes, it was a memorable day, even for this once "anti-sports" American girl, you cannot help but get swept up by the emotion when it surrounds you in every direction.
One thing is sure, Spanish sports have not suffered and continue to shine in almost every world sport imaginable. Yes, just about any sport. The otherday I saw that Spain's only "underwater hockey" team had taken home a world cup last year and was preparing for this year´s competition.
Yesterday on tv one could watch player interviews and recollections of that day "when they touched the stars" and how the happiness they felt was beyond what they could have ever imagined.
Yes, Spain has a start-studded line-up of some of the best players in the world. Many coming from arch-rival Spanish teams Real Madrid and FC Barcelona, considered two of the best in the world. They played, they shined, and today we remember that bright moment when Spain defeated Holland and became FIFA WORLD CUP CHAMPIONS.
Spian has become synonymous with "great sports"..And for those of you who do not appreciate the economic power of winning a World Cup, according to Avelino Bustos, Spanish official in South Africa, the amount of visa request to Spain have increased by 45% since winning the title.
Congrats to all of them. ¡A por ellos en la próxima!
---
Keywords: