Tomatina time!
by Kimberly on Wednesday, August 31, 2011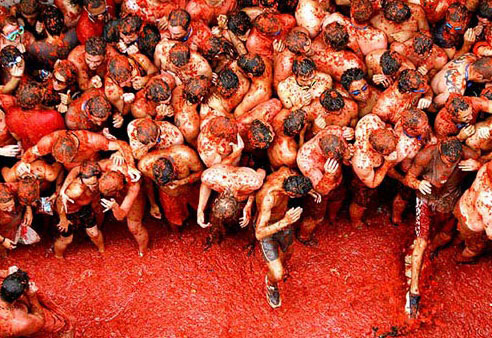 La Tomatina, the biggest food fight in the world, is held on the last Wednesday of August every year, in the small town of Buñol, near Valencia. This year the celebrations will begin on Tuesday 30th August and continue until the 1st September, and a crowd of anywhere between 20,000 and 40,000 is expected to take part in the tomato flinging brawl.
The night before the fight sees a paella-cooking competition; however, things soon become a little less civilised! At around 10am on Wednesday morning, a ham is placed upon a greased-up wooden pole, and it is the task of one brave individual to retrieve it, so that the festivities may begin. Trucks loaded full of tomatoes surround the area, and once the firing of water cannons occur, the fight is on…
Over 150,000 tomatoes are hurled across the narrow streets of Buñol in the hour long battle. Chaos ensues in the sea of over-ripe tomatoes until a second cannon is sounded, marking the end of the free-for-all.
In the midst of all the mayhem, there are a few important rules that participants have to adhere to. There has yet to be a serious accident during the festival in Buñol, so the three main rules are important in upholding that record:
· No additional missiles such as bottles or hard objects can be used.
· Tomatoes should be squashed before thrown, so as to lessen the impact a little.
· People are strongly encouraged to wear protective goggles, as tomatoes juice can sting!
Once the fight ends the streets are washed with water from the Roman aqueduct and participants go down to the river to clean up a little!
No one is quite sure of the origins of this bizarre event, but one thing is for sure, whatever caused the beginning of this event was such a success that is has been repeated annually ever since. The tomato-fuelled madness is now as emblematic a part of Spanish culture as any other popular Spanish fiesta, but perhaps a little messier!
---
Keywords: