Where is Argentina? Argentina Map & 10 places to visit in Argentina
by Kimberly on Friday, August 5, 2011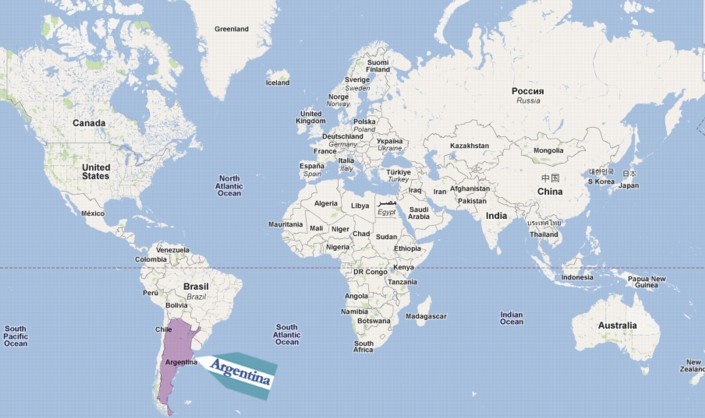 This blog is to help you learn about where Argentina is located, discover places to visit while you travel in Argentina and view an Argentina map of our suggestions. This is a comprehensive article for anyone thinking about doing tourism in Argentina.
Where is Argentina? That may sound like crazy question for many people, but according to Google, "Where is Argentina?" is one of the most searched for Argentina terms in the USA. I am not judging anyone here. Many Americans are geographically challenged and this is not because we (yes, we) are stupid. I prefer to use the word "sheltered", yes, we are very sheltered from the world. What do I mean by this? Well, many people may not know where is Argentina because they simply lack exposure.
One geography class 20 years ago was not enough, the local news doesn't often mention the "world", local newspapers are lucky to have an extensive international section even national papers lack on the "foreign news" front. My point is that Americans can literally live their whole lives not knowing where Argentina is, let alone the rest of the countries of the world.
So where is Argentina? Argentina is located where the map ends, on the southernmost tip of the planet, at the end of South America. It is a large country, the second largest in South America dominating the major part of the continent. However, compared with the US, Argentina is a bit less than three-tenths the size with a total area of 2,766,890 km² (1,068,302 mi²). Argentina is 3,650 km (2,268 mi) long from North to South and 1,430 km (889 mi) across from east to west.
On the north, Argentina is bounded by Bolivia, to the northeast by Paraguay, to the east by Brazil, Uruguay and the Atlantic Ocean, and to both the south and west by the long nation of Chile. In total, Argentina has over 9,665 km (6,000 mi) of border.
Now that we know the answer to "where is Argentina," we can take a look at this vast and beautiful country filled with adventures, mighty waterfalls, high mountains, vast plains, impressive ice glaciers, unique cities, tango, natural charms, amazing food and nice people.
If you are planning on traveling to Argentina or traveling through Argentina, it is a good idea to get familiarized with the country so that you can plan your trip accordingly.
The following is a map of Argentina with the top 10 places to visit while you are traveling around Argentina. This Argentina map is available online and is interactive.
1- Buenos Aires is known to be a very European feeling cosmopolitan city. The population descends mainly from Italians and Spaniards giving the city a rich cultural heritage and unique architecture. Don't miss a good tango class, the bohemian San Telmo neighborhood, the famous Recoleta cemetery where Eva Perón is buried. Study with don Quijote's partner school in Buenos Aires, marked on the Argentina map with a special symbol, to really discover the unique Argentine accent and culture.
2- The "pampas" are not marked on our Argentina map because the Argentine pampas are great plains located around the capital city of Buenos Aires. Famous Argentine "gauchos", or cowboys, can be found working the land that is also spotted with many lovely 19th century homes. This beautiful area is open for tourism.
3- Peninsula Valdes is home to some of the world's best wildlife reserves in Argentina. Tourists traveling to Argentina often head to this area to watch whales breeding off shore. Sea lions, elephant seals, Orca whales and penguins are also common sights.
4- Ushuaia, as you can see on the map of Argentina, is located at the very tip of South America in Tierra del Fuego (Land of Fire) and is the southernmost town in the world. From this point in the world, you can board an excursion to Antartica!
5- Patagonia glaciers & Mount Fitz Roy: Some of the world's largest advancing glaciers are located in the Patagonia region of Argentina. If you are traveling through Argentina, make sure to stay a night in one of the several towns located in the area to cater to visitors who come to see the Perito Moreno glacier and the Upsala glacier. The Patagonia region is marked on the Argentina map below. Mount Fitz Roy is located about 130 miles to the north of the famous Patagonia glaciers. This peak is a must see for adventurists, often described as the most amazing and breathtaking mountain peak in the world.
6- Lake District - Bariloche: Bariloche, located in the Lake district, is a charming town and home to one of the most impressive ski resorts in South America. It is also the location of another don Quijote Spanish partner school located on our Argentina map. The Lake District area is often compared to the mountainous region of Switzerland and contains many charming towns like Villa La Angostura and San Martin de los Andes. El Bolson is another village known for its crafts while Esquel is famous for the Old Patagonian Expressway.
7- Mendoza - Argentine Wine: Head to the city of Mendoza in the Andes, marked on our map of Argentina, home to Argentina's famous Malbec wine. You can tour the wineries and participate in wine tastings. While you are in this area traveling through Argentina, head to Aconcagua, just a short drive from Mendoza, where you can marvel at the world's highest peak after the Himalayas.
8- Salta & Jujuy: These two southern villages are known to be colorful and indigenous feeling. In Salta you can catch the famous Train to the Clouds, the highest railway in the world and fropm Jujuy you can visit cloud (fog) forests and other small unique villages.
9- Iguazu Falls in Argentina is a spectacular set of over 275 falls between Argentina and Brazil. The power of Iguazu Falls is unrivaled by any other, not even Niagara Falls or Victoria Falls. Devil's Throat, one of the main attractions, dumps over 10,000 gallons of water a second from a height of over 230 feet.
10- Córdoba is the second largest city in Argentina and is home to another don Quijote partner school. The city, indicated on the Argentina map, is famous for its preservation of historical monuments from the times of Spanish colonialism. Several 17th century buildings have been declared as World Heritage Sites by UNESCO.
So now you have the answer to the question: Where is Argentina?, you have many really good reasons to travel to Argentina. We hope you find our suggestions and Argentina map useful to plan your tourism in Argentina.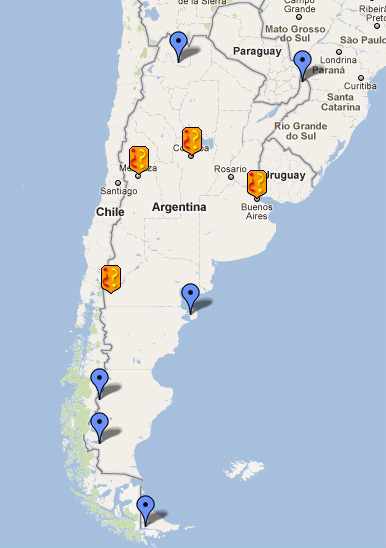 View this INTERACTIVE Argentina map on Google
Want to study Spanish in Argentina?
Study in don Quijote's partner school in Buenos Aires or Amerispan Spanish schools in Argentina.
---
Keywords: tourism in Argentina,travel to argentina,where is Argentina,travel around argentina,Argentina map,map of Argentina,where is Argentina?,traveling in Argentina