Michael Bloomberg speaks Spanglish in Twitter
by Kimberly on Thursday, September 1, 2011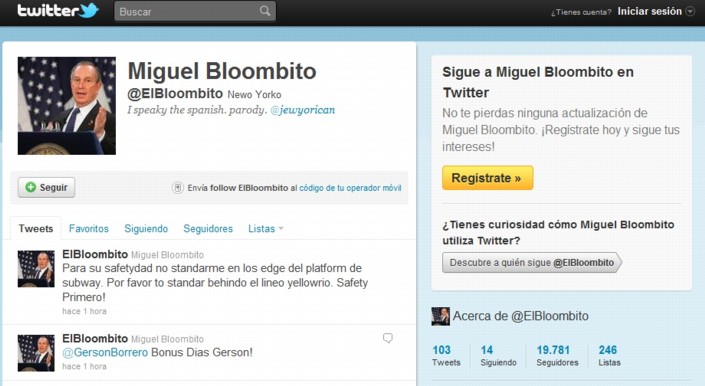 Michael Bloomberg, for those of you who may not know, is the mayor of New York. He is 69 years old and has been studying Spanish for 8 years. Many people may not know this, but after press conferences he always gives a summary in Spanish, something noticed by the large Latin community that he represents.
Before we laugh at the quality of Mr. Bloomberg's Spanish, first I think I should make it clear that I think he is a great role model for other politicians as he shows a true effort to adapt to the changes in America. Learning a language is a big commitment and speaking it in front of people can be scary, and yet he tries :)
Before Hurricane Irene touched land, Bloomberg was warning the Latin population of its eminent danger. That was when Rachel Figueroa-Levin got creative. She is a blogger, a twitter hound, maintains her own website blog and writes just about anything. She thought that Michael Bloomberg's storm warnings delivered in Spanish the previous night were pretty funny, a strong American accent and terrible pronunciation, she laughed and created @ElBloombito on Twitter. The slogan: "I speaky the spanish. parody."
Miguel Bloombito is a "Spanglish" Twitter account that pokes lots of fun at the New York mayor by writing in Spanglish. She started writing:
"Hola Newo Yorko! El stormo grande is mucho dangeroso!"

"Fill los bathtub con agua por preparando el no agua, Los floodwaters!"

"Alerto: If usted see el somethingador por favor to say somethingador. Los terroristeros estan mucho malo! Que vigilance!"
As of the moment this article was written, the Twitter account has reached a whopping 19,781 followers after only 103 tweets.
Rachel Figueroa-Levin is enjoying her 15 minutes of fame, and is surprised to have gotten so much attention and so many interviews in such a short time. She promises to keep the account active as long as "it is still fun".
So we think it is funny to poke fun at a 69 year old mayor who certainly tries his best to represent the Hispanic/Latino population, which represents 27,5% of New York City's population. He may have a funny accent and all that, but we are pretty proud of him and think he is a role model for other people and politicians.
Want to learn Spanish better than the New York mayor?
---
Keywords: Michael bloomberg,spanglish nwe york mayor,miguel bloombito