The don Quijote 2013 price list is now available
by Tyson on Thursday, September 27, 2012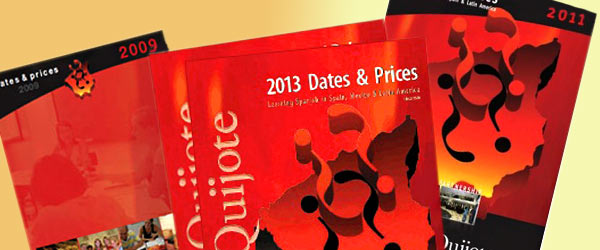 don Quijote's 2013 price list is hot off the presses, making right now the perfect time to start planning for your unforgettable study abroad experience in Spain or Latin America. And for those that know how to plan ahead, we've got a special offer: if you decide to study Spanish in Barcelona or Madrid, and you book it before October 29, 2012, you'll get 2012 prices on your 2013 course. Make sure you mention the offer when booking.  
If you already have an idea of the course or destination you would like to sign up for, the price list makes it easy to find the information you're looking for on details such as cost, dates and special services related to each program.
For those that would like to explore their options, the price list offers a wonderful world of possibilities. The destination, course, (or combined program) and accommodations you choose for your Spanish study program will all have an enormous impact on your time abroad and the life-long memories you create. It's important to first evaluate your interests and study goals and then carefully consider all of your study options. The 2013 price list will help you plan for the program that best suits your interests and needs, as it provides detailed information on all of don Quijote's courses and where in the Spanish speaking world they're offered.
The first and perhaps most important decision to make when planning will likely be where you want to learn Spanish. The rich cultural diversity of Spain and Latin America makes each one of don Quijote's 35 Spanish language study destinations highly unique. Each region's geography, climate and linguistic differences are also things to consider. Check out all don Quijote program locations in the price guide and then research the ones that appeal to you to make an informed decision. We know that choosing from so many attractive settings is not always easy, that's why don Quijote encourages you to embrace a variety of Spanish speaking cultures by immersing yourself in combined destinations.
The price list will also help you choose the course or courses you want to include in your study abroad program. You'll not only find info on all of don Quijote's engaging classes designed to build general Spanish skills, you can also choose from specialized Spanish courses that offer exciting adventures and specific instruction on fun cultural themes that will bring you closer to your host country: cook up zesty dishes in a delicious cooking class on regional cuisine, move to sensual rhythms in a flamenco, salsa or tango class, etc. A wide variety of volunteer program and internship opportunities are also featured in the list, where you can pick the best way to get hands on professional experience while mastering Spanish and playing an active role in your new community. There's so much to choose from, and it's all in the brand new price guide.  
The 2013 price list reflects don Quijote's continuous efforts to improve the high quality in-country Spanish learning services we offer and our commitment to students. Our extensive experience exclusively providing Spanish learning services helps make don Quijote the best option for anyone wanting an unforgettable experience learning Spanish abroad. So check out the price list, and get ready for a valuable life-changing experience. 
---
Keywords: study abroad,study in spain,spanish schools,study spanish,spanish classes