Latin Breeze at the Golden Globes
by Kimberly on Wednesday, January 18, 2012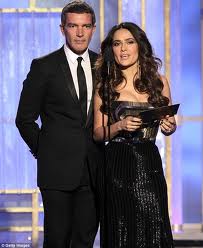 On 15th of January the winners of Golden Globe Awards were announced. The 69th Golden Globe Awards, honoring the best in film and television, were held at the Beverly Hilton Hotel in Beverly Hills, California. English actor and comedian Ricky Gervais hosted the show for the third time and the ceremony went on full of his controversial jokes. The audience gets used to see familiar faces at such ceremonies; Meryl Streep was elegant as always, Johnny Depp and George Clooney were the core attention of women as well as the beautiful Angelina Jolie and Salma Hayek.
A quite unusual incident happened when Antonio Banderas and Salma Hayek came to the stage as presenters. Ricky Gervais, having aimed one of his "arrows" at Antonio Banderas when he joked that he had not understood a word the Spanish actor had said backstage, earned a response from Banderas when he approached the microphone reciting a famous poem in Spanish. The Spanish accent has long been an object of ridicule in the English language. However, the rise to fame of countless Latin American and Spanish stars is undeniable as they share the spotlight more and more with classic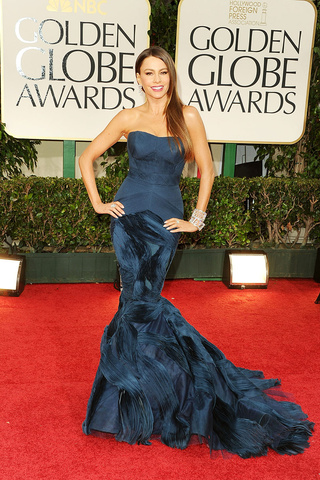 Hollywood stars.

One of the charming actresses of this "Latino hurricane" that deserves special attention is Sofia Vergara. When the ABC sitcom "Modern Family" won the best comedic series award, the Colombian star Sofia Vergara started speaking Spanish on stage in response to all the jokes about the Spanish accent. Her success is apparent and represents the emotions and pride of Hispanic people around the globe.

Born Barranquilla, Colombian Sofia Vergara started her career as a model and actress. She currently stars on the ABC sitcom "Modern Family" as Gloria Delgado-Pritchett, for which she was nominated for the 2010 and 2011 Primetime Emmy Award for Outstanding Supporting Actress in a Comedic Series along with a Golden Globe Award, and three Screen Actors Guild Awards nominations.

The road to success for the Latin population has been a long one. Today, the movie sector has opened its doors to foreign productions, directors and actors that add quality and diversity to Hollywood. Sofia Vergara has followed in the footsteps of other famous Latin beauties such as Salma Hayek and Penelope Cruz, both of which have earned their place in Hollywood thanks to talent and hard work. Each successful Latin artist has helped open doors for the future ones, so we can expect to see more and more Hispanic faces on the silver screen.
---
Keywords: hispanic people,famous latins,famous hispanics