The importance of learning Spanish
by Kimberly on Wednesday, January 25, 2012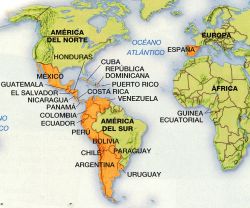 Why study Spanish?
Today's businesses cannot ignore the attractive markets that the Spanish language offers. Spanish-speaking people constitute a huge community that shares products, services and culture; offering businesses and institutions a truly unique market for potential growth.
Fluency in the Spanish language will give you a career boost in many fields, including business, health care, law enforcement, government and education. Hispanics currently comprise almost 15 percent of the American population, meaning that over 40 million Americans speak Spanish at home, making fluency in the language a vital skill for job seekers.
Spanish is one of the fastest-growing languages in the world and is spoken by an estimated 500 million people globally. Counting only native speakers, Spanish actually outranks English, which makes learning and teaching Spanish a smart choice.
Good reasons to learn Spanish
Spanish is the official language in 21 countries including Spain and Mexico. Number of speakers: Spain: 44 million, Colombia: 44 million, Argentina: 39 million, Venezuela: 28 million, Peru: 28 million... , the Caribbean and most of South America except Brazil and Guyana.
Spanish is also largely spoken in the US and the second most common language. It is mainly spoken in the states of Texas, Arizona, California and Florida.
Spainish is commonly spoken in many parts of southern Africa including Morocco.
Spanish is spoken throughout the Carribean and most of South America, with the exception of Brazil and Guyana. However, due to these areas' locations, most people there also learn Spanish.
With over 450 million speakers worldwide, Spanish is the third most widely spoken language in the world in regards to amount of speakers, both native and non-native, after English and Mandarin Chinese.
Spanish is the second most used language in international communication and also the third most used language in politics, economics and cultural issues.
The economies of Spanish speaking countries represent a GDP of $2.6 trillion.
The country of Spain, located in Europe, has been ranked as the 3rd most desirable country to live in based on standard of living and health. The country has experienced great growth in the last decade and was one of Europe's fastest growning markets.
Latin America as a whole is a fusion of many different cultures and economies with a common language: Spanish. The huge geographic area represents an emerging market for businesses and industries alike who have been shifting their attentions to this huge market potential. According to recent studies, there is a lot of foreign interest in Latin America especially in the real estate and telecommunication sectors.
With everything in its favor, the Spanish language is likely to keep growing at a rapid pace as it has been doing for years. Don't get left behind, start learning Spanish with don Quijote to open more doors in your future!
---
Keywords: study abroad,why study spanish,study spanish