Begin your Spanish experience in Spain or Latin America!
by Tyson on Thursday, October 18, 2012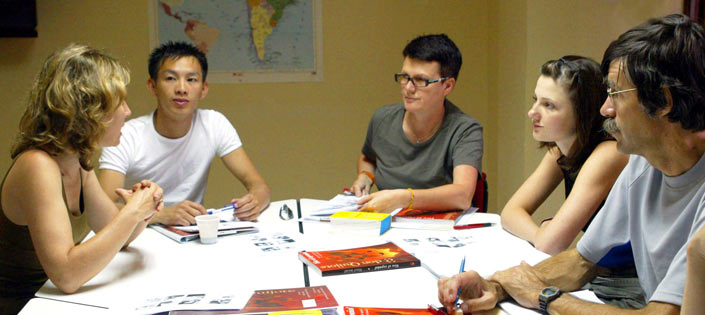 The school year has already started for most students. It's not too late however to: drop what you're doing, sign up for a don Quijote Spanish course in Spain or Latin America, pack your bags and experience the richness of the Spanish language and a vibrant new culture. In fact, it's never too late to get away from it all and embark on an international adventure that will build your Spanish skills (enhancing your resumé), and give you life-long memories making new friends and discovering new worlds in the Spanish speaking destination(s) of your choice.  
You can sign up for and dive right into your in-country Spanish course any time of the year with don Quijote. Join your new Spanish class on any Monday, start speaking Spanish from your first day of class, get out of class and find yourself immersed in Spanish, forced to use it no matter what your level. Continue living in your new host country for as long as you want. Then, if you want, make your way to a different destination. The flexibility of don Quijote's programs allows you to put together your own personalized study abroad plan that best suits your interests.
You definitely don't have to wait until next September to start your Spanish classes, so that excuse is not going to work if you're thinking of putting off your life-changing Spanish experience in any of don Quijote's many destinations. For many people, now is the most appealing time of year to slip out of their usual lives and into a wonderful new setting, since in many places October marks the beginning of chilly weather and cloudier skies. Consider escaping the upcoming frosty months of fall and/or winter, when the cold season's icy grip often just seems to squeeze the joy right out of everything -many of don Quijote's Spanish destinations offer year round sunny skies, just waiting to brighten the lives of anxious visitors! Some of don Quijote's schools are also located in charming beach towns, where relaxing on stunning beaches after class, sinking bare feet into warm golden sands and enjoying the sounds of seagulls and gently breaking waves all may make for an interesting alternative to your usual fall or winter routine. If you are a snow lover, don Quijote also has winter wonderland destinations just for you, where ski stations and fun in the snow are located near schools in locations such as Granada and Salamanca.
So what are you waiting for? Now is the perfect time to study Spanish, no matter what your level is, the most effective way possible; immersed in the language and with the best teachers in the field. Come learn, improve and master Spanish, and stay in your host country as long as you like. The experience will change your life, give your resumé a handsome boost and change your outlook on the world.
 
---
Keywords: study abroad,spanish in spain,learn spanish,spanish courses,study spanish