The Queen of the Languages: Spanish
by Dilek on Tuesday, October 16, 2012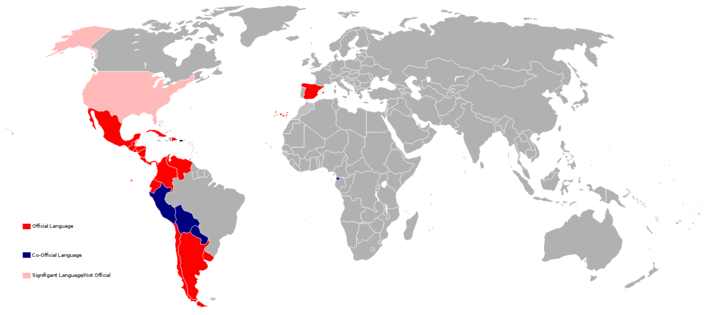 The recent news and statistics have suggested that Spanish is the second spoken language of communication and intercultural exchange after Mandarin.
Yet not surprisingly at all, being the official language of 21 countries, Spanish has always been popular but lately the power of its domination has become more visible. Let's see these numerous facts why Spanish is on the way to take the throne.
A newly published article called "The Economic Value of Spanish", showed the demographics of Spanish speakers that 402 million form the native or domain group and 25 million represent the group of limited usage of Spanish. Roughly the number of Spanish speakers reaches to 439 million throughout the world. Also, according to the magazine "Ethnology, Languages of The World" which was published in 2009, Spanish is ranked second (328,518,810) after Mandarin (1212. 515 844) and before English (328,008,138).
In United States, the number of Spanish speakers was about 35 million a few years ago while it is 48 million now and it is estimated that by 2050 it will be 130 million people. In Europe people have become more enthusiastic to speak Spanish with constant improvement. Cervantes Institute stated that this year there has been a double increase in enrollment (from 104.000 to 210.000), no need to mention other options like online learning. The number of applications for DELE exam showed a remarkable jump in five years from 31.500 to 57.000. Spain is the most welcoming country in Erasmus program for students to study and improve their Spanish. During 2009-2010 semester 35.389 students preferred to study in Spanish cities. The emerging economies like Mexico, Argentina and other major Latin American countries offer a bright future for students and professionals, so speaking the language is substantially important to take part in this intercultural process.
Brazil and Philippines also work on advancement of Spanish education. In Brazil the number of Spanish learners has risen from 1 million to 5 million in five years, since Brazil and Latin American countries are regionally compact, surely there must be an influence on each other. Philippines wants to regain this ancient language; therefore, Spanish will be taught in secondary education starting from 2013.
These facts might give you enough reason why it is beneficial to learn Spanish. So why don't you take a look at these special offers and let your Spanish experience begin!
---
Keywords: Spanish, Spanish language, Spain, Cervantes Institute, Latin America, Hispanohablantes, DELE, Erasmus, study Spanish, speak Spanish