Exhibition at the Casa Azul in Mexico City: The Dresses of Frida Kahlo
by Tyson on Thursday, November 8, 2012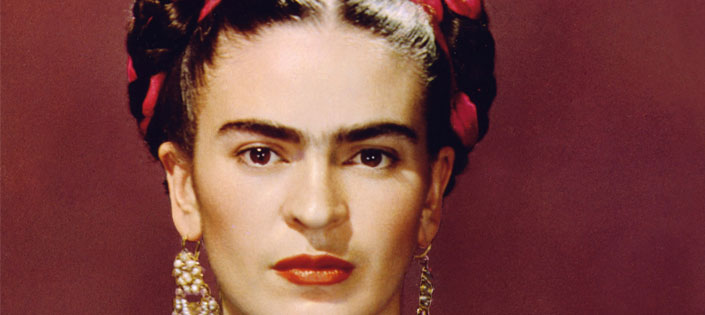 Appearances Can be Deceiving: The Dresses of Frida Kahlo is the intriguing name of a new exhibition at the home-turned-museum Casa Azul, where Diego Rivera and Frida Kahlo once shared a residence and a very public marriage characterized by dramatic ups and downs. The exhibition, scheduled to open November 22, will display a collection of Frida's clothing, accessories, and other personal belongings that has remained hidden from public view since the mexican painter's death in 1954.
Rivera, hoping to protect the little privacy that the couple shared in life, stipulated in his will that Frida's belongings be sealed in dressers, closets and the home's bathroom for 15 years after his death in 1957. Frida's stuff however sat there much longer, shrouded in a vague cloud of mystery, awaiting the right time to sprinkle intimate detail on her tale of suffering and uncompromising expression. Dolores Olmedo, rumored to have been one of Kahlo's many rivals for Diego Rivera's romantic affections, was in charge of carrying out the final 15 year request. She kept the belongings locked up however, for nearly half a century until her death in 2002, leaving curious observers wondering just what type of secrets Appearances Can be Deceiving will reveal.
In 2004, when a team of specialists finally cracked open doors and sifted through layers of dust, they discovered 6,000 photos, nearly 200 articles of clothing, piles of jewelry, medicine and documents, much of which the Casa Azul Museum will display in Mexico City. The exhibit's two central themes are "ethnicity" and "disability", and it will show how Frida effectively employed fashion to celebrate the indigenous cultures of Mexico while concealing physical pain and imperfection.   
At a time when intellectuals and academic artists unquestionably looked to Europe for a sense of fashion and for cultural influence in general, Frida Kahlo appeared in public and at events dressed in wide ruffled skirts, vivid colors, and intricate embroidery that showcased a decidedly indigenous identity and affirmed a strong preference for Mexicanidad. The effect was nothing short of revolutionary. Frida's vibrant, hand crafted designs captured the attention of Mexico and went on to reverse the movement of style transaction inspiring generations of designers and pop culture icons around the world including Jean Paul Gautier and Madonna. Kahlo's sense of fashion and the bold statement it makes recalls the color, style and message of her paintings and those of Diego Rivera and the Mexican muralist movement.
Kahlo's long flowery dresses with striking colors also diverted observers' attention and covered physical imperfections caused by unfortunate events that would plague the painter with a lifetime of physical pain. As a child, she had polio, which shriveled her right leg. Later, she was in a near fatal cable car accident. The loose clothing that characterizes the Tehuana styles she wore also concealed customized corsets designed to straighten her back. She underwent countless medical operations throughout her life in attempts to correct back problems and control back pain.
Frida Kahlo lived much of her life in the quiet shadows of her husband's massive murals and larger than life presence. The world however has slowly developed a growing fascination with her story, image and artistic legacy. Appearances Can be Deceiving: The Dresses of Frida Kahlo promises to treat viewers to an intimate glimpse into the life of a woman whose bold charm and uncompromising expression continues captivating observers and inspiring special interest in Mexico more than 50 years after her death. We will also see how the colorful cheer of flowery clothes can conceal a lifetime of unforgiving pain, reminding us that appearances can indeed be deceiving.
---
Keywords: frida kahlo,mexican painter,casa azul,frida kahlo biography,diego rivera and frida kahlo