Celebrations in Spain from January to March
by Lauris on Thursday, December 20, 2012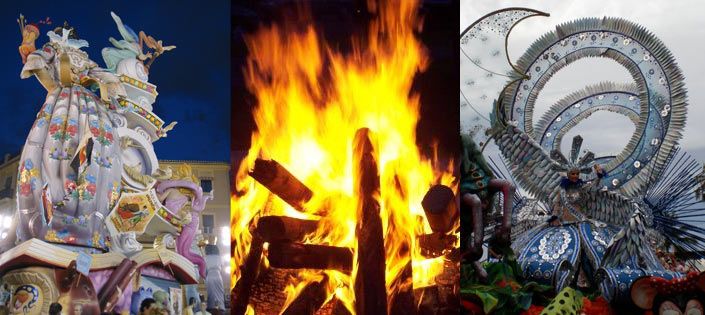 The new year is just about to begin, and it's ready to bring us new possibilities for the future, which with a little luck, we'll be able to turn into reality.

Below we've prepared a summary of some of the popular festivities celebrated throughout Spain during the first three months, to give you an overview of Spain's celebrations and to help give an idea of where to go and when. These cultural and linguistic journeys are a wonderful way to not only learn the fascinating Spanish language, but to also naturally immerse yourself in the culture of Spain through personal contact with Spanish people.
In January, we'll enjoy the Reyes Magos celebrations that take place in practically all Spanish cities and towns: las cabalgatas de Reyes (Kings' parades), which happen in the evening on Jan. 5th, where wide eyed children watch as Melchor, Gaspar and Baltasar arrive to deliver gifts that night to children who've been good, and coal to those who've been bad. We'll also taste the roscón de reyes, and hopefully be lucky enough to be crowned king of the fiesta.
The month of February is the month of Carnaval, and we recommend that you actively participate in the Carnival festivals of two cities that offer very different perspectives on this originally religious celebration. In Cadiz, the social commentary, wittiness and great dry sense of humor exuded by the gaditanos (people of Cadiz) are kings of the carnaval. Groups of party-goers known as carnavaleras, murgas, comparsas and cuartetos, decked out in imaginative costumes, gather in the streets and squares of the Tacita de Plata (a name for Cadiz) to sing and perform the numbers they have spent all year preparing. Smiles are guaranteed, and when someone says, tipo, tipo!, you have to have act out a representation of the character you've chosen to dress up as. This festival isn't meant to be observed from afar, it's for integrating oneself and sharing a shrimp omelette with gaditanos.
In Tenerife, Carnival celebrations are also experienced outside, but the scenery here, the costumes and the decorations are particularly spectacular. The queen of Carnaval, clothed in an outfit that seems to have been taken from a fairy tale, presides over the festivities. In Puerto de la Cruz, you can take part in the cross-country for dragqueens: the fun "Mascarita, ponte tacón" event, and on the 16th, in Coso, you'll dance all over the city and get to know locals and visitors in a lively atmosphere full of music, fun and optimism.
In the month of March, you're invited to visit Salamanca to enjoy the "Lunes de aguas" tradition , which takes place the Monday following Easter Monday, and recalls the yearly return of the town's prostitutes (after their brief obligatory exile during Holy Week), who would cross the Tormes River by boat to be met by eagerly awaiting university students. On the banks of the Tormes, you can enjoy an hornazo (traditional meat pie) and celebrate with the Salamancans on one of their most special fiestas.

Valencia must also be visited on this month, where on March 19th, Las Fallas take place. During this festival, Valencians take to the streets and manifest their creativity in the form of incredible monuments made of multi-colored cardboard and wood. These sculptures, built with surprising perfection, serve as a vital platform to reflect social reality and the Valencian sense of humor. The purifying fire puts an end to these short-lived works of art, and only one of these, the Ninot indultat, will be selected to be spared from the flames and placed in the museum dedicated to this festival. Don't be surprised if you're awakened in the morning by loud sounds of the mascletá, which are a part of many traditions in this region. Valencians put on the world's best fireworks shows, and these add a dazzling touch of color to this festival that should not be missed.
---
Keywords: when to go to spain,where to go in spain,best places to visit in spain,celebrations in spain,best time to visit spain