Don Quixote Comes to Life with Johnny Depp
by Dilek on Tuesday, December 11, 2012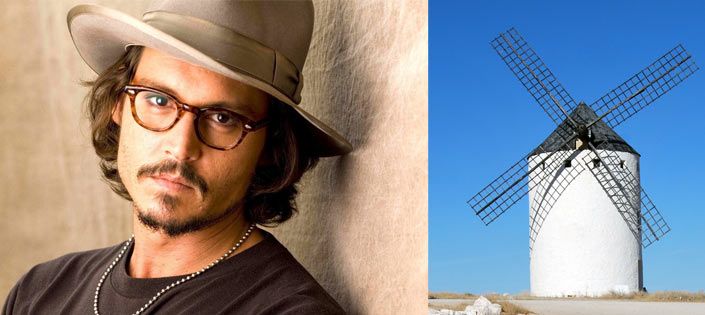 Don Quixote is the second most translated book after the Bible and the adventures of the famous Spanish hidalgo and his loyal fellow Sancho Panza are known by almost everyone in the world. The story inspired and led to several movie adaptations in many countries not only Spain.
Movie adaptations of literary works are seen as guarantee income opportunities with visual effects and after adding up a bit more spice to the screenplay. Nevertheless, Don Quixote's story has not got the chance to be a blockbuster movie so far. Since last decade the director Terry Gilliam has been trying to revive the old knight yet didn't succeed in finishing owing to the constant changes in screenplay and funding problems. The doomed project is called The Man who Killed Don Quixote. In 2002 Gilliam finished a documentary called Lost in La Mancha showing the production stage and failed attempts of this project. It is still a big question whether the creative director of Brazil and the member of legendary Monty Python group would see his dream in theaters.
There is another rumor has been spreading that Johnny Depp is going to produce a Don Quixote movie partnering with Disney. He somewhat lost his faith in Gilliam's project -he played Tobe in Lost in La Mancha- has undertook a modern adaptation of the 17th century epic novel. We will be waiting impatiently to watch no matter whose project comes into life, the great story of Miguel Cervantes is worth to see by all means.
Some Don Quixote Facts on screen
1903 The first movie is a French short silent movie.
1933 The opera star Feodor Chaliapin stars as the knight. It represents the glamorous days of chivalric age and the death of the knight would tear down the image in spectators so they changed the ending showing the knight going back home disillusioned.
1957 Don Quixote is adapted in a Russian way. It was directed by Grigori Kozintsev and veteran Russian actor Nikolai Cherkasov plays the lead character. The storyline keeps the same path as the original script but the ending which contradicts the communist ideology was changed.
1992 Orson Welles' Don Quixote is one of his unfinished projects till somebody came up buying the rights of the movie and edited it with Welles' notes. It was not a masterpiece yet done with good intentions.
2010 Don Quixote revived in 3D in Chinese adaptation Tang Ji Ke De which the plot takes place in ancient China keeping some of the important elements like windmills and sheep army.
---
Keywords: Don Quixote, Johnny Depp, literature, cinema