Spanish Christmas Lottery: A 200 Years Tradition
by Dilek on Tuesday, December 25, 2012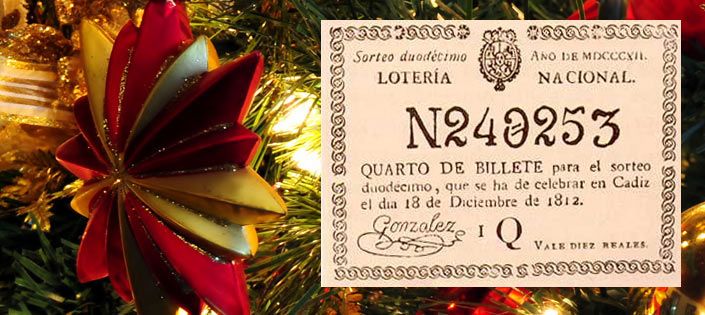 The Spanish Christmas Lottery (la Lotería de Navidad) is the most widely played chance game and every Spaniard dreams of being rich at the end of December. It is another trademark of Christmas traditions that one must live the excitement whether "El Gordo" (the biggest prize) will touch him this time.
The first contemporary lottery was created in 1812 in Cadiz to support the state revenue for public tax authority and in 1814 the first official drawing was held in Madrid which later has become the center and the day of 22nd of December has been the official date for Christmas lottery, that is also acknowledged as the beginning of the holidays.  

The lottery tickets are official papers and counterfeiting is strongly prohibited. Each ticket is divided into series (195 series per number) and each series is divided into ten shares which is called decimos is at price of 20€. Since 2011 the number of series has been 100.000 started from 00000 to 99999. The biggest prize (the amount is 4.000.000€) is called el Gordo which literally means the fat one. It is not the biggest amount given considering the other lotteries though it is the most desired one among Spaniards even you should notice the phrase tocarle el gordo a alguien (to win el gordo) referring to get something you wish for with the help of luck. The winning numbers are chosen by randomly with two drums including boxwood balls on which the numbers are written with laser so as to keep the same weight. The first one contains 99.999 balls and the next drum is the prize drum that has all the 1807 balls determining the winners of the prizes. Since the beginning of the lottery, the students of San Ildefonso have the duty to sing out the winning numbers.

If you are staying in Spain during Christmas time, you should give a chance for el Gordo to touch you to start a prosperous year.  
Facts about the Spanish Christmas Lottery
It has been held every year without any cancellation not even during Civil War
The tickets are started to be sold in July
In 2002 the prizes are turned into Euro and the drawing took shorter 9 minutes less because it was not as long as the previous years when the prize was in pesetas.
The ticket ending with the number 1 is the unluckiest which has come out 8 times so far, the luckiest one is the number 5 coming 32 times.
---
Keywords: Christmas Lottery,Christmas celebration in Spain,Spanish culture