The Must-See Places in Andalusia
by Dilek on Tuesday, December 4, 2012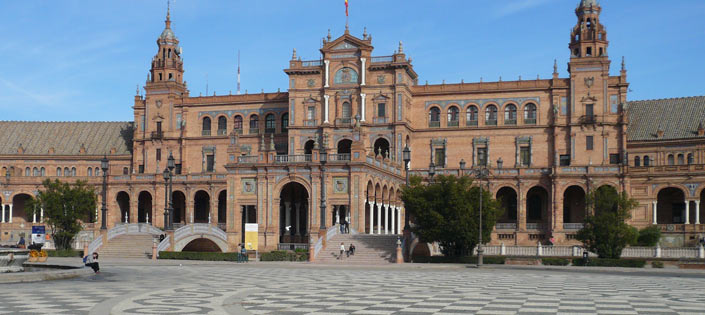 It is not wrong to say each part of Spain is worth to see and Andalusia is a bit different from the other regions with its history, art, culture and Spanish accent. If you consider a trip to Spain you should add these places to your list.
Seville which is the capital of Andalusia and the city of golden tower, split by the Guadalquivir River. You can start your trip with the Cathedral of Seville as you spend a little energy to go up to the Giralda -the bell tower- which is 95 meters high yet it is really worth to see the panoramic view of the city. Bear in mind that it is better not to be there on the hour otherwise you could have slight hearing loss. Another must go place in Seville is Plaza de España whose area is 50.000 square meters, is one of the fine examples of Renaissance architecture. If the time of your visit falls around April then you will enjoy the streets and the restaurants during Seville Fair (Feria de Abril)
La Joya Mora or in other words Moor Jewel completely fits to this attractive city. Granada is a total magnet located under the hills where the great Alhambra Palace takes place. Just next to Alhambra don't forget to visit the Palace and the Gardens of Generalife. In winter it is a good opportunity to show your skiing skills in Sierra Nevada.
The enchanting scent of orange trees, the white Mediterranean houses with full of flowers and the fine blend of Moorish and Roman architecture, the time passes slowly in Cordoba. The most important historical place is the Mosque-Cathedral of Cordoba which is one of the largest buildings of Islamic architecture.  
Cadiz, Spain's coast of Atlantic Ocean is another fantastic city to visit. The oldest navy town of Spain is an attractive point offering a wide range of Andalusian history to local and international tourists. Cathedral of Cadiz is one of the landmarks of the city with its golden dome and Tavira Tower is the only remaining watchtower where it is possible to have a panoramic view of the old city with a pinhole camera.
Malaga, the birth town of Picasso is a shining diamond of Costa del sol. Famous for its long and golden beaches the city is a perfect holiday destination. Alcazaba of Malaga , which is the best preserved citadel in Spain, was built on a hill dominating an entire view of the city. It will be a pity if you don't pay a visit to Picasso Museum and also the house where the great painter was born. For a little fun, you should go to Juzcar, a small town where all the houses were painted in blue two years ago for the premiere of Smurfs.
---
Keywords: Andalusia, Seville,Granada,Cadiz,Alhambra,Malaga