Delicious Flavors Hidden In The Pages
by Dilek on Friday, February 24, 2012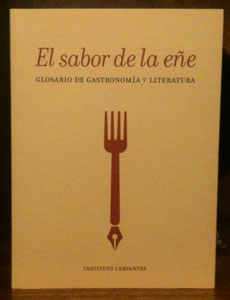 'Ñ' is maybe the most significant letter in Spanish. The Cervantes Institute has published a delicious book with this letter which is a glossary of food and literature.

"The taste of ñ" contains 59 literary delicacies of Spanish and Latin American authors, accompanied by recipes beginning with appetizing entrees like alboronías, pies, beans, soups, tequeños, tortos, stuffed peppers, totopostes ... and, of course, potato omelette and main dishes like arepas, chili sauce, ceviche, enchilada, rice and beans, parakeet, roast leg of lamb, or beef cooked in Madrid.

Spanish literature has "a fascinating taste, sensual and rich in nuances and aromas. Also the Spanish culture is so widespread and diverse that it has an important role in literature. Words and tastes are accepted universal and it is an excellent way to share the culture with the latter generations.

The work begins with an excerpt from "The General in His Labyrinth" by Gabriel García Márquez in which he mentiones about alboronía, a typical dish from Colombia which is made with fry eggplant, tomatoes, squash and peppers.

It is advisable to continue with the latter and spend a few Nobel prize recipes like corned tacacho by Mario Vargas Llosa, a typical dish of the Peruvian jungle including roasted or fried green plantain, triturated with lard and served as a ball or sausage with fried beef jerky. The writer mentions about this dish in the novel "Pantoja and the Special".

Other flavours and authors featured in "The taste of ENE" are, Antonio Skarmeta with Chilean pebre in "Neruda's Postman", Cesar Aira with the Argentine steak in "Ghosts", Fernando Iwasaki with the ceviche peruno in his "immense Strait II ".

Also the glossary includes the texts of Angeles Mastretta who writes about the chiles in walnut sauce in "Tear This Heart Out", Elena Poniatowska writes about the enchiladas in "Tinisima", Edmundo Paz Soldan with the Bolivian chola sandwich in his work "Palace burned" or Laura Restrepo shows the Colombian donut in "Delirio," and continues with many more authors like Almudena Grandes and Juan Pedro Castaneda.

"The taste of ñ" will be distributed by the network of Cervantes Institute centers, and even though you don't cook or give it a try to one of these recipes, you can at least feed your soul by reading this book.

---
Keywords: Spanish and Latin culture,Cervantes Institute,cooking,recipes,spanish cuisine,literature,food