Las Fallas - The Bonfire of Valencia
by Dilek on Wednesday, March 14, 2012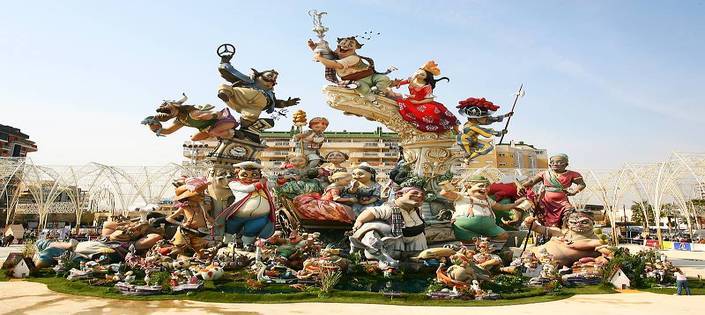 Spring has come and there is a bunch of things you can enjoy in this wonderful weather. One of the things you can do in Spain, is to check out "Las Fallas" in Valencia.

Las Fallas or Falles, is a festival with a strong tradition in the city and province of Valencia, that is held from 14 to 19 March with huge attendance and wonderful shows.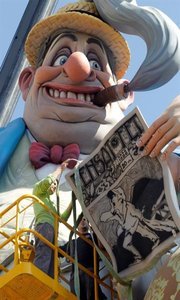 The origin of "Falles" goes back to 18th century.The word "Fallas" comes from the Latin word fax which means torch. Valencian carpenters used a board of wood called 'parots' to hang their candles during the winter, With the coming of the spring,since they were no longer in use they were burned. Within the passing time burning of these parots has become integrated with the celebration of the festival. Puppets strung across the street from window to window and youth and artisans gathered materials like piles of lumber and ninots (dolls) that represent ironical public figures to lighten up the evening. The ninots were piled on the facades of buildings and they brought into one place and burned them at night. It is a commemoration Saint Joseph, the Patron of the Guild of Master Carpenters.

More or less the same tradition still continues, each group prepare their ninots with flamable materials and take them to "Grand Parade" which can be seen until the last day of the festival known as La Cremá (the burning). On 19th of March around midnight, these ninots are destined to be burned and the bonfire of the city lights up the evening.

Another tradition during the festival is "casal faller", wearing historical and regional costumes and the sound of tabalet (traditional drum) in the streets. If it is your first time, be prepared to wake up early with "La Despertà", the brass bands march through every street playing lively music so it is an energic way to start the day. And don't be afraid, as there are fallers throwing firecrackers and noisemakers on the street. Every day the huge fireworks show which is called mascletá is held at 2 p.m in the Plaza Ayuntamiento.

The festival mood never drops down and during these 5 days, Valencia offers full entertainment, art and Spanish history. Recently "Las Fallas" Festival has been nominated to be one of the Intangible Cultural Heritage of Humanity of the UNESCO. This dedication and great effort to keep Spanish culture alive, deserves to be seen.
---
Keywords: Spain,valencia,Las Fallas,spanish history,festivales in spain,Spanish culture,valencia festival,festival