The Sound of Tacones in USA
by Dilek on Wednesday, March 7, 2012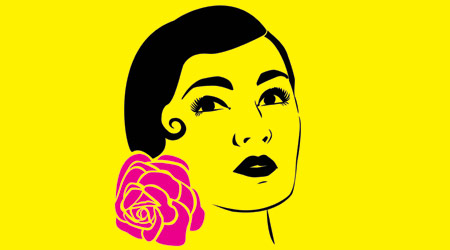 New York welcomes the eleventh edition of the Flamenco Festival, that after a year of delay the sound of "tacones" come back with all its glamour.

Since its creation in 2001, Flamenco Festival USA has become the most important showcase for Spanish culture outside Spain and a vital point of encounter between the American public and Spanish artists.

Flamenco Festival will be presented at many important venues of USA. Some of them are: NY City Center, Manhattan Center, Cervantes Institute in New York; Adrienne Arsh Center in Miami, The Lisner Auditorium in Washington DC and Emerson Majestic Theatre in Boston.

Throughout these ten years, the festival, has continued to grow in terms of number of artists, size of audiences, and public recognition, and it has become a yearly event. The Flamenco Festival USA has presented almost all the most important figures of the current flamenco panorama, and has highlighted the work of both traditional and contemporary artists. Apart from USA the show expands to several locations such as London, Moscow, Sao Paulo, Buenos Aires and Santiago.

About one hundred and seventy artists take the stage every day. Amongst them several stars of flamenco world like Carmen Cortés, Rafaela Carrasco and Olga Pericet put their shows on stage. Until the end of the festival which is on 11th of March, it is advisable to take a look one of these shows:

Canteca de Macao, the performance of the band led, tinged with Latin, flamenco, reggae and jazz, will be the last day on which the hearing will Flamenco Festival in New York (March 11).

Sexy, sinuous and beautiful, La Shica sings a distinctive flamenco, colored by hip-hop, reggae and bossa nova that seeks to connect with a younger audience.

Jazz and flamenco can be considered to be different music genres but deep down under, both share a common root born out of the traditional music of West Africa. In this outstanding combination, jazz guitarist Doug Wamble and flamenco guitar virtuoso Niño Josele lead their respective ensembles through this rich interconnected musical territory.

Antonio Pitingo, Huelva born artist is one of the most popular young singers on today´s flamenco scene, famed for combining traditional forms of Cuban folk songs with flamenco.
In the center, a number of parallel cultural activities are also carried out to bring flamenco to the New York community with various conferences, free classes and meetings with artists such as guitarist José María Gallardo del Rey, who will present "Classical and flamenco."

If you happen to go one of these venues, don't hesitate to enter as you will be enchanted with the power of flamenco music and Spanish culture.
---
Keywords: flamenco dance,usa,Spanish culture,flamenco,festival