Viva el Football !
by Hannah Ryan on Friday, March 23, 2012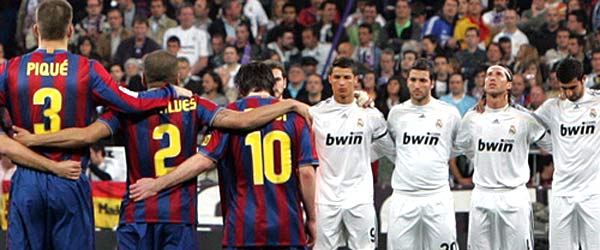 For my first blog post I'm going to write on a subject about which I am completely ignorant; football. But since I am here in Spain to learn the language, I may as well pick up some of the culture too.

Coming from an Arsenal crazy household, I thought I could get away with the same eye-rolling indifference that I do when football invades the TV set at home. Oh how wrong I was. On my first social outing here in Spain, I'd expected a few friendly get-to-know-you drinks with polite chit chat. What I got was a full frontal assult on my eardrums as the entire bar spent 90 minutes screaming at the TV, as Real Madrid took on Villa Real.

But hey, I learnt a lot of good vocabulary! Here are some football words you may need to join in the Spanish national obsession;
un árbitro = a referee/ umpire
un portero = goalkeeper
una parada = a save
fuera de juego = offside
un tiro libre = a freekick
empatar = to equalize
un empate = a tie/ a draw
descanso = half time
marcar = to score
una entrada = a tackle
descuento = injury time
And what a time to be a football fan. This Tuesday, Lionel Messi broke Barcelona's goal scoring record. The Argentinian's hatrick in the 5-3 victory against rivals Granada bought his total of goals for the Catalonian club to 234! The record had been set 60 years previously, by Cesar Rodriguez who played in the 40s and 50s. At only 24 years old, Messi is not only the top scorer in the Spanish League so far this season, but also holds the impressive title of 'World Player of the Year'!
My Dad always says that football unites the world – and el Mundo Hispano is no exception. Did you know that Uraguay was the first World Cup Winner? What with Spain being the current world champions, and the rivalry game between Barcelona and Real Madrid (which Spaniards know as el Clásico) coming up, my excuses are running out to stay clueless about fútbol!
---
Keywords: Spain,Granada,Madrid,Barcelona,champions,catalonia,football,Real Madrid,Spanish culture,Spaniards,FC Barcelona,El Clasico,Spanish football