Increase in Balcony Prices During The Holy Week
by Dilek on Monday, April 2, 2012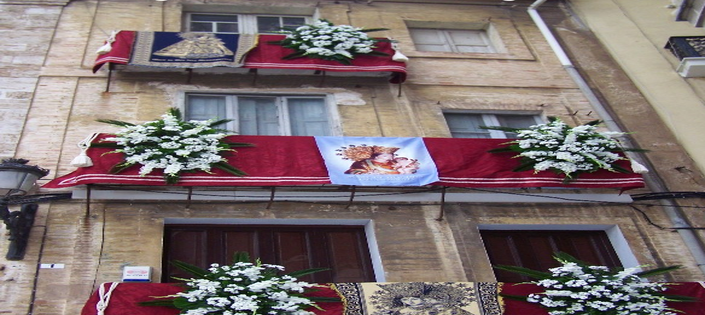 The rental prices of apartment balconies have risen during the Holy Week in main cities like Seville and Malaga.

The price range is between 4,000 and 12,000 euros for the whole Holy Week, and the other balconies cost 600 euros for seven days. The hotels are almost close to 80% occupancy rate and considering the amount of people coming to Seville to see the processions, renting the balconies is a great opportunity for extra income during crisis.

Earlier in the Passion Week, the virtual billboards are reserved with full attention that all Spanish Festivals are lived with the same passion. This is the case in the area of La Campana, where the official start of the race and all the processions of the city take place.

Advancing in the official race, and increasing prices for these privileged viewpoints, it is seen in the portal mybalcony.com, a proposal for good places with a capacity of 12 people at a cost of €1,450 every day from Monday to Holy Thursday, and for €2,900 'the Madrugá' and Good Friday.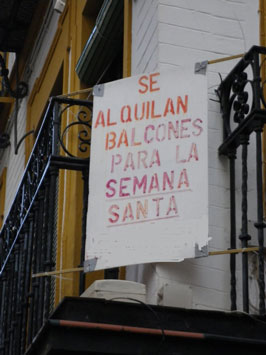 But this is not unique to Seville, a little further south, in Malaga, with capacity for 20 people on the street Larios, the rent price ranges between 2,000 and 3,000 euros a day. It is said that those who are interested for these spaces are usually companies or wealthy families.

As for flats and apartments, Triana and the center of the city are certainly the most quoted, but it seems that over the classical form of lease. After consulting with several real estate agencies, all indications are that they wash their hands in short periods and are the particular contract or not, those who reach agreements on line.

The options are varied. Renting a 62 squaremeter apartment in Triana can cost €600 for a week. Yo can have a contract which both sides show their acceptance on any mishaps.Another option is to rent a room in Juan Luis Montano at San Vicente (city center) for 50 euros a night including breakfast and private bathroom. It is available to find more than 200 deals on the internet.The profile of the occupant of these rooms responds to mainly foreign tourists, for the most important is the possibility of mobility and swing without cancellation or penalty.

To live the excitement of the Spanish festivals passes through the heart of the streets and to get a better sight passes through your wallet.
---
Keywords: Sevilla,Semana Santa,Spanish festivals,Malaga,The Holy Week