How NOT to Study Spanish!
by John Bascombe on Tuesday, May 8, 2012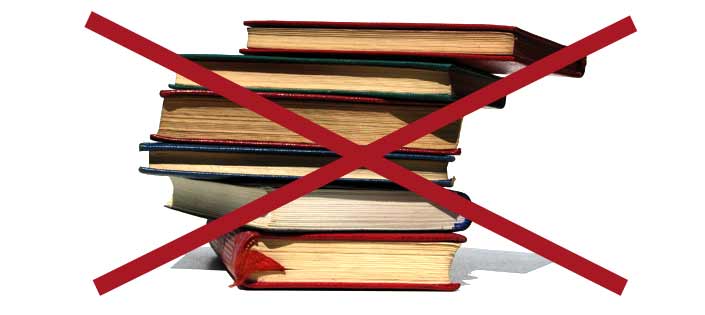 Learning a language can seem a never ending task. And in truth, it is really (sorry!) - language is constantly evolving, it's not like algebra where you find what equals x and that's the end of it. But there are some ways to make the task a lot easier, and some common mistakes people make when learning a language that you should avoid like the plague (and algebra).
DON'T make it boring!
While grammar may not be the most exciting thing on the planet, it is necessary to know, but that doesn't mean the whole process of language learning has to be boring! So keep it fun, and related to what interests you! Have margarita parties and make paella, or take a trip to Madrid to practice. When I started learning I read the Harry Potter books in Spanish, and I bet you'd rather learn from a Guatemalan girlfriend than a grammar book!
DON'T make it monotonous!
Language is best learned in context; stay away from phone book-esque vocabulary lists! Pages and pages of conjugated verbs will only make your eyes go fuzzy; why not have a word of the day, or label everything in your room with its Spanish name.
DON'T be afraid to make mistakes!
Learning languages is all about the swimming pool effect – why dip your toes in slowly when you can jump in and immerse yourself! Passive observation isn't enough; while I would LOVE to advocate just watching dubbed reruns of Friends, they won't be able to teach you the difference between the preterito and the imperfecto. So give it a go yourself! Speak to some Spaniards or get chatting to a Colombian. Trial and error is the best way to learn, and you could meet some friends along the way."Tell me, and I forget. Show me, and I remember. Let me do, and I understand" says an ancient Chinese proverb.
DON'T give up!
Regular learning is the best way to build on progress. Learning the future conjugations at school 15 years ago is no guarantee that you know them now. Congrats on your photographic memory for those select few lucky enough to have one, but for the most of us, regular practice is the best way to get something to stick. So no long linguistic siestas! And it's true that every little helps – even the busiest of people can slip some Spanish into their day. Per
sonally, I use BBC Mundo instead of the regular BBC to catch up on the news; while I don't understand this economic crisis in any language, but at least this is an informative way to practise Spanish.
DON'T be unrealistic!
When learning a language, you get out what you put in. You can't get fluent in a week, but that doesn't mean it's not worth working for. Keep a positive attitude! By setting yourself realistic goals, you can work towards something tangible, track your progress, and treat yourself to some galletas when you've met your aim!

So now you know what NOT to do, why not start learning Spanish today!
---
Keywords: spanish,spanish class,in-country language immersion,intensive Spanish course,spanish vocabulary,learn spanish,Spanish language,studying Spanish,study spanish,study,grammar