Madonna to Perform in Argentina
by Tyson on Monday, August 6, 2012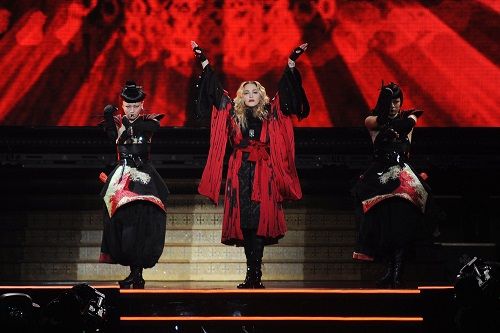 Thousands of eager Madonna fans are hurrying to book their tickets for the singer's December 2012 Argentina performances. Argentina will host three concerts, two in Buenos Aires' River Plate Stadium (Dec. 13, 15) and one in Cordoba' Estadio Kempes (Dec. 22). The shows promise to entertain and demonstrate the passion, uncompromising self expression and bold attitude that characterize Madonna's legendary thirty year music career. After selling 300 million albums and becoming a popular culture icon around the world, she has come to symbolize determined strength, self awareness and controversy. These qualities have provided generations of fans with a source of inspiration and identity.
Madonna has only stopped in Argentina during two previous tours (in 1993 and 2008). This is her ninth world tour and includes fifty countries. It kicked off earlier this year in Tel Aviv, Israel. The wildly successful tour has already stirred up controversy, caused most notably by her brief nudity during an Istanbul show. Many observers think the move was especially bold considering Turkey's strong Islamic tradition. The tour also stopped in Abu Dhabi, where rapper Lil Wayne appeared on a back screen sporting a huge cross. Also, Madonna sang her new song Girl Gone Wild and danced in a cheerleader outfit.
The tour promotes Madonna's latest album, entitled MDNA, which features appearances by newer artists M.I.A. and Nicki Minaj. Concert goers can expect to enjoy performances of new songs from that album such as "Give Me All Your Luvin", as well as energetic renditions of her classic 80s hits such as Vogue and Papa Don't Preach. With numerous interesting set backdrops, tightrope acrobatics and accompaniment by a team of dancers, Madonna fans won't want to miss this chance to watch her in action.
Tickets for Madonna's Argentina concerts range in price from $250 for general admission seating to $2,100 for VIP packages. If you want to catch her live in Argentina, you'd better get your tickets soon. Show dates in other countries have sometimes sold out in days, and her Yankee stadium concert in New York sold out just twenty minutes after tickets went on sale. After performing in Argentina, the tour is scheduled to head to Santiago de Chile.
---
Keywords: buenos aires,music