Spanish cuisine, the fashionable food that's here to stay
by Tyson on Thursday, September 13, 2012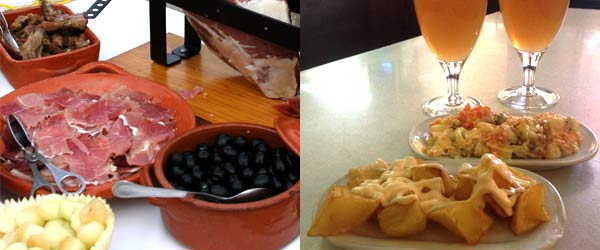 Food fads come spinning into our trendy world like a delicious whirlwind and then slowly fade away. Our fickle pallets constantly crave fresh new flavors. In the last few years, Spanish cuisine has caught the attention of the food fashion in-crowd. Starting in the early 2000's, new Spanish restaurants and tapas bars have seemed to spring up everywhere, perhaps most notably in the United States, where a growing awareness of Spanish culture has had a huge impact on the culinary landscape. Countless food-lovers eager to get in on the action are: tuning in to watch Spanish cooking programs, signing up for Spanish cooking classes and loading up on olive oil, saffron, and their local super market's finest queso manchego, all hoping to create their own delectable masterpieces.  All the hype leaves us wondering, "how long will it last?" And more importantly, "all this zesty goodness that has arrived from Spain to please our taste buds and fill our hearts with Iberian passion won't have to fade away will it?" The International Culinary Center in Manhattan doesn't think it will.
The prestigious Culinary Center has invested heavily in the successful future of Spanish cooking in America. They have recently decided to open a new Spanish studies department, naming world famous Catalan chef Jose Andres its dean. Andres is from Spain, but he has lived in the U.S. for 20 years. When he came here, one of his dreams was to help introduce Americans to the bold flavors of Spanish cooking; he had no idea that Americans would soon embrace it with such enthusiasm. In 2003, Food and Wine magazine recognized Andres' tireless promotion of his homeland's cooking traditions, accrediting him with the Spanish food boom in America and going on to call him "the hero of the Spanish revolution". News that the Mediterranean diet is one of the healthiest in the world, with its diverse vitamin rich ingredients, including sea foods loaded with omega 3s, helped the Spanish food craze spread. Washington D.C. based Jose Andres has opened award winning restaurants from D.C. to Las Vegas to swanky Beverly Hills. Time magazine placed him on their 2012 list of most influential people in the world, reminding readers that the Spanish culinary revolution is indeed booming.  
The Culinary Center's program hopes to generate educated cooking innovation outside of Spain, based on a deep understanding of authentic dining traditions in Spain. The historical prominence of Italian and Latin American influences in American eating often makes invasive appearances in the more recent Spanish cooking phenomenon, confusing eater's notion of Spanish style. Andres hopes his program will clear up the confusion. He insists that he loves the food of Mexico and South America, he even has restaurants that serve those foods, but he would like America to enjoy genuine creations that reflect the unique flavor of Spain. The celebrated chef and new institute dean plans to accompany students to Spain, where they will immerse themselves in the succulent tastes and rich language of the country. After intensive study on mouthwatering topics (tomato-nut sauce, allioli, ham, traditional wood fire grilling, etc.) students will return with a strong sense of Spain's diverse foods.  
Hopefully for us, future program graduates, trained in Spain under the expert tutelage of one of the world's most critically acclaimed cooking geniuses, will go on to open their own restaurants and keep our demanding cravings satisfied.

 
---
Keywords: spanish food,spanish cuisine,spanish recipes,spanish tapas,mediterranean diet