The Baja California Peninsula in Mexico
by Tyson on Thursday, September 6, 2012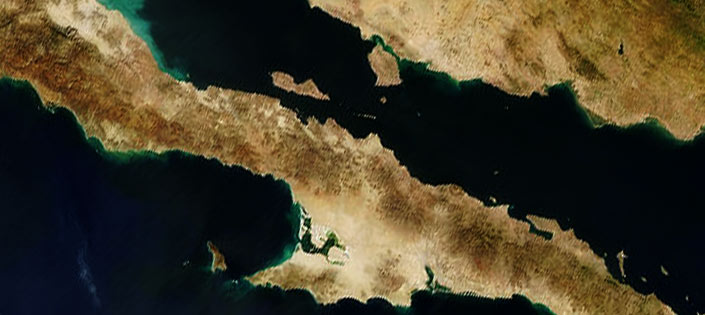 The Baja California peninsula in Mexico is a long, narrow arm of land that stretches nearly 800 miles from north to south. As its name indicates, the region lies just below the U.S. state of California, a proximity that facilitates a steady stream of visitors, from anxious sun and beach seekers to nature conscious eco-tourists. Despite its reputation as a desolate desert land, the peninsula offers a spectacular treasure trove of diverse landscapes and wildlife, all sandwiched between two seas and lined with the warm sands and sounds of hypnotic wave breaking that vacationers crave.    
Most tourists remain in the far north around the town of Ensenada or in the far southern resort town Cabo San Lucas. Each of these popular destinations offers unique experiences. The peninsula's relative isolation from the Mexican mainland gives its culture a distinctive Baja identity. Mexico produces about 90% of its wine in the Ensenada area, where wine tasting tours give thirsty visitors a taste of Baja's robust flavor. Ensenada area beaches such as San Miguel feature consistently excellent waves ideal for surfers anxious to catch a killer experience. Grey whales, dolphins and playful sea lions make these pacific coast waters their home. Marine life lovers can go on whale watching tours to check out these graceful sea animals in action within their natural habitat. On the bottom tip of the peninsula, Cabo San Lucas is one of the best places in the world to golf, with world class courses designed by golf greats such as Jack Nicklaus. Needless to say, greens fees run on the pricey side. Many golf fanatics insist that the high quality fairways are well worth the spendy bill. The most popular activity in Los Cabos however is relaxing shore side soaking up golden rays on warm sand. It's no wonder why a growing U.S. and Canadian expat community has taken shape here. Todo Santos is also a popular tourist destination. This artsy town has attracted writers and painters to its friendly bohemian atmosphere for years, resulting in a vibrant variety of art galleries and attractions.   
The Baja California peninsula also has plenty of less explored areas in incredibly varied environments, particularly in the central and southern lands, where cactus, dormant volcanoes and mountains tower above desolate deserts, rolling dunes and rich wildernesses. Mountainous regions are great for camping, mountain biking, trekking and just breathing in the mountain fresh pine air. Picacho del Diablo (Devil's Peak) in the national park at San Pedro Martir is a hiker and rock climbers paradise. Those that reach the peak are rewarded with breathtaking views. Wildlife native to Baja is also spectacular and diverse. Wide ranging amounts of rainfall in different parts of the peninsula help produce dramatically different eco-systems. Dry desert regions are home to flora and fauna that have adapted to harsh arid conditions, such as scorpions, geckos and rattlesnakes. Big horn sheep live here in the rocky hills and canyons of the deserts. Prehistoric people left their mark in central Baja caves and rock dwellings. Giant cave paintings dating back to 8000 B.C are still on display, waiting to connect visitors to the lives of Baja California's prehistoric artists. These painters depicted curious images of human figures, animals, the sun and the moon, leaving modern viewers to wonder what these mysterious painters of old live's were like.
People planning on exploring Baja by car are recommended to try to keep the fuel tank as full as possible, as many stretches of highway, especially in southern part of the peninsula are very desolate desert areas. Make sure you have a reliable car. Tours down the entire peninsula by bus are also offered, with trips lasting about 12 days in air conditioned buses and with English speaking guides.
Tourists to the Baja California Peninsula find plenty to do and see, even if their activity of choice involves little more than lying on the beach and doing nothing. Its stunning landscape and long list of things to do however doesn't end at the coast line.
---
Keywords: baja california, the baja california, peninsula baja california, mexico california, mexico baja california, map baja california, los cabos, los cabos mexico, ensenada baja california