The Cervantes Literature Award 2013
by Tyson on Thursday, April 25, 2013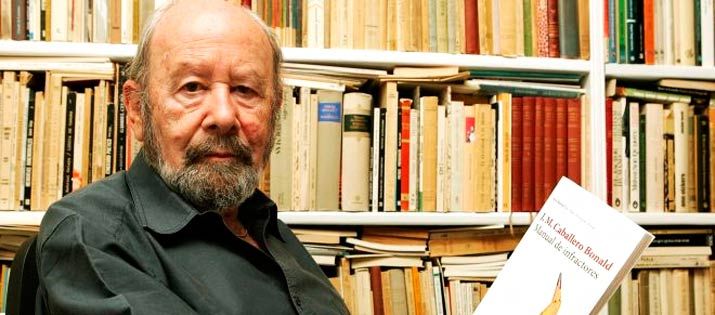 Jose Manuel Caballero Bonald received the prestigious Premio Cervantes de literatura (Cervantes Award for literature) last Tuesday at the University of Alcalá de Henares outside of Madrid.  The prime minister of Spain Mariano Rajoy attended the ceremony in which Spanish Crown Prince Felipe personally offered Caballero Bonald the honor. The award, perhaps the most highly regarded prize for Spanish language literature, has been given every year since 1975 to the writer whose life-long body of work has most enriched the literary tradition of the Spanish language according to judges. The day of the ceremony always coincides with World Book Day and the anniversary of the deaths of Miguel de Cervantes and William Shakespeare on April 23rd.
Caballero Bonald
On receiving the award, the 86 year old Caballero Bonald exclaimed that earning the prize has been the most satisfying achievement of his career and a source of pride and honor. He went on to explain that reading frees human beings and that art and literature provide therapeutic power to a society that is disappointed, perplexed and insulted by a crisis of values.  
The author is best known for his poetry, of which notable works include Laberinto de Fortuna and Las horas muertas. Vivir para contarlo is an anthology of his poetry written until 1969. His work often treats social issues of Spain's post civil-war period, and he is associated with a group of writers called the Generation of 1950 who opposed Franco's dictatorial regime. In the late 60's he stayed in Cuba for a time and wrote Narrativa Cubana de la revolución.  In 1968, he was briefly jailed for political reasons. The Cervantes Award recipient also spent a total of 10 years as a professor of Spanish literature in Colombia and in the United States. 
 Caballero Bonald, who calls himself "discontinuo e intermitente", has described poetry as an instrument for nonconformity. On offering the writer the award, Prince Felipe also pointed out that nonconformity has been a key element of his work.
Besides poetry, he has also written novels including Dos días de septiembre, and a number of essays, of particular interest to anyone wanting to know more about Spanish culture, such as España: fiestas y ritos and Luces y sombras del flamenco. He also spent many years as a professor of Hispanic literature in Colombia and the United States and has had extensive contact with Latin American writers, all of which has influenced his work. His father was Cuban and his mother French, further reflecting the writer's international influences.    
Past winners of the Cervantes Award include two writers that went on to win the Nobel Prize for Literature (Octavio Paz and Mario Vargas Llosa).  Judges choose winners from Spain and Latin American, usually alternating each year between the two regions. Nicanor Parra, from Chile, won the previous Cervantes Award. 
---
Keywords: cervantes,spanish poetry,spanish literature,spanish poets,literature awards,spanish writer