The Running of the Bulls in Pamplona
by Imogen on Thursday, July 11, 2013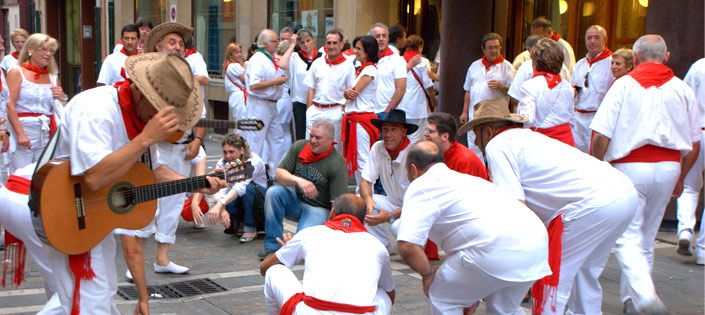 Recognized worldwide for its running of the bulls event, the San Fermín festival takes place in Pamplona between the 6th and 14th July. It consists of 9 days of non-stop partying and celebration and this year is no exception.
The San Fermines
Made famous by Ernest Hemingway's book "The Sun Also Rises", this city of just 200,000 attracts over a million people each year that come to experience the famous festival. The running of the bulls takes place at 8am every day of the festival starting the 7th July. You have to get up very early if you want a good viewing spot for the run, or even to run yourself! The bulls are released from their corrals with the sound of a firecracker and begin the 825 meter run through the narrow streets of Pamplona to the bull ring. The popular event is televised by two TV channels. The run typically takes between 3-4 minutes, but has been known to take over 10 minutes, especially if there is a stray bull that has lost his companions. The runners that take part have to be over 18 years old and are not allowed to incite the bulls. That said, this year a group of people seemingly incited a bull so much that it followed them into the river! A true thrill and adrenaline rush, this event attracts thousands of runners every morning, despite the obvious dangers. This year even Ernest Hemingway's great grandson came to Pamplona to lap up the atmosphere. Runners dress in white with a red bandana around their neck. It is actually a myth that red makes bulls angry; they are in fact color blind, but it is just a very Spanish tradition to use red in bullfights.
The bulls that run end up in a bullfight later that afternoon. As 48 bulls participate each year, the festival does attract some negative attention from animal-rights activists. 90% of the crowd at the bullfights are season ticket holders, so tourists have to wait in line to get in to the bullring. After the bullfight the fiesta continues, with more partying in the street and even sangria fights! Fireworks at 11pm add to the atmosphere in the city, before yet another long night of partying, all helping to make this one of Europe's craziest celebrations. 9 days of drinking and dancing in the street, along with processions and parades and you're in for a great time.
Pamplona
Pamplona also has plenty to offer as a historical city, so if you don't fancy coming at a time of mayhem, avoid the San Fermín festivities! For a culturally enriching and once in a life time experience, Pamplona can give you just that; the city best known for the long-standing Spanish tradition of the running of the bulls.
Photo by Rufino Lasaosa

---
Keywords: pamplona,spanish traditions,san fermines,pamplona spain,running of the bulls pamplona