San Fermin 2019
by Javier Serrano on Thursday, July 4, 2019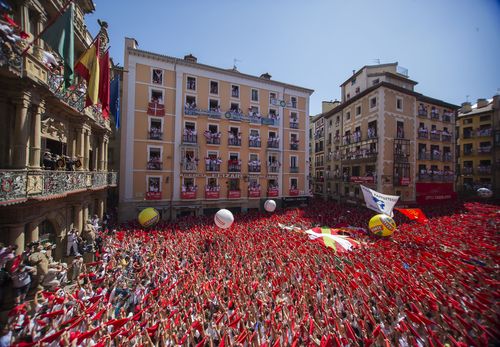 The Sun Also Rises in San Fermin this 2019
Dear reader, surely at some point you have wished to attend to a festivity so thrilling it is worthy of inspiring a novelist to create his greatest work. And speaking of such novelists, if you´re imagining a novelist so accomplished they have even won the Pulitzer Prize and Nobel Prize in Literature, this festival is indeed a guaranteed success. As many of you might have already guessed, we're talking about San Fermin.
It is known that Ernest Hemingway felt an attraction so strong for this special celebration that he included it in his novel The Sun Also Rises, but he hasn't been the only one. Orson Welles, Ava Gardner, Errol Flynn, Deborah Kerr, Charlton Heston, Tyrone Power, Dennis Rodman, Bill Clinton, are few among many other figures in varying fields to form part of this "sanferminera" loyalty.
Keep reading in English, or click here to switch to Spanish, and discover everything you must know about this "bestseller" celebration.
What should I wear?
As any significant event, San Fermin has its own rules of etiquette. To become an authentic "pamplonica" you will have to get some white pants, a white T-shirt, a red handkerchief, and a red waistband.
While the tradition of wearing all white is recent, from the 1970s, the red handkerchief has its history. And it remains a mystery, because there still exists several hypotheses about the origin of its red color. One theory explains that it symbolizes the martyrdom of Saint Fermin, who was beheaded at the young age of 31. Other hypotheses say that it's red to encourage bulls during "encierros" or because of Navarra's flag.
Remember! Before the "chupinazo" kicks off the festival, the handkerchief must be tied around the wrist. Afterwards, it's worn around the neck (or wherever you want).
The takeoff
There's nothing like a traditional song to obtain valuable information:
Uno de enero, 2 de febrero, 3 de marzo, 4 de abril, 5 de mayo, 6 de junio, 7 de julio San Fermin. A Pamplona hemos de ir.
Ok, after listening the same old song year after year, I think that the most of us have a pretty clear idea about the meeting's day and location. However! It can lead to error. Yes indeed, San Fermin is July 7th. But the festivity starts every year on July 6th at 12:00 noon. At this moment the "chupinazo" takes place, and fireworks are launched from the balcony of Pamplona's hall balcony to mark the opening of the "sanfermines."
This is the moment when you will hear: Pamploneses, Pamplonesas, ¡Viva san Fermin! ¡Gora san Fermin!
Here, if you can't run, you'd better fly            
At 8 a.m, during two to three minutes, the city's main street fills with adrenaline. It's the moment of the world-famous running of the bulls or encierros.
Along a 950-yard-long circuit, bulls and humans compete in a vertiginous race that concludes in the bullring.
According to records, just a 14% of the runners in the "encierro" are from Pamplona. To live out this ''once in a lifetime'' kind of experience, runners come from all around the world, among them, 20% are American, an 8% are Australians, a 3% are from England, and a 1% are French.
If you're planning on being one of these brave runners that dare to put themselves in front of six bulls, you better entrust yourself to a saint. That's why this song exists and is dedicated to our beloved Saint Fermin:
A San Fermín pedimos, por ser nuestro patrón, nos guíe en el encierro, dándonos su bendición.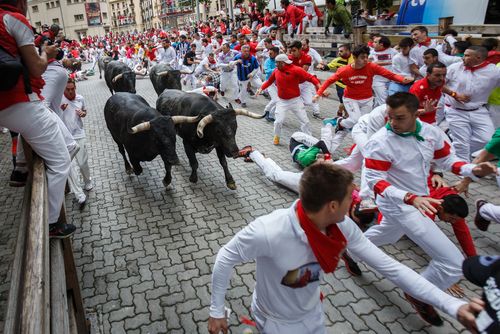 But San Fermin is not only about running of the bulls. Music too has a presence in all the celebrations, from the "dianas" of "La Pamplonesa" to concerts and traditional charangas to the bullfight's "pasodobles."
Other predominant activities are the "Riau-Riau," held on July 6th, and parades, such as the "Giants, big-heads, kilikis, and zaldikos parade" (Giants, with more than 159 years old of history, are the most emblematic symbols of the festivity. They are figures made of wood, cardboard, and cloth that are accompanied by "kilikis," big-heads, and "zaldikos." Together, they make up the "Comparsa"). Behind each giant pair, "comparseros,",bagpipers, and "txistularis" (musicians) set the tone.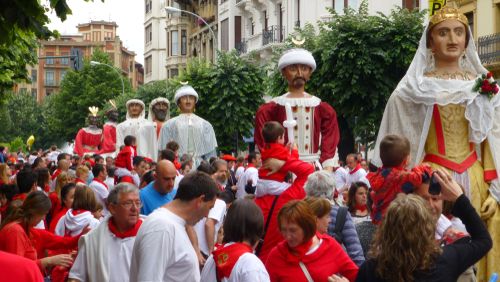 Furthermore, every night at 11 p.m, a firework spectacle lasting 15 to 25 minutes is held at the citadel park.
The festivity finishes on July 14th at 12 midnight. If you don't want to miss it, take a Spanish course and intone perfectly the song that says goodbye until the next year:
¡Pobre de mí, pobre de mí, que se han acabado las fiestas de San Fermín! 
---
Keywords: